Even back in the 1990s, when he was serving four years in the Marine Corps, Robert Nishiyama knew what he really wanted to be was a firefighter. In fact, while stationed at Camp Lejeune in North Carolina, he chose to live next door to the local fire station so he could volunteer in his free time.
Now captain of Wylie Fire and Rescue, he's living that dream.
But, if the coronavirus has taught him anything it's that the marine in him is still ready to serve.
"That's the truth," Nishiyama said. "Once a marine, always a marine."
That's why, every night, as the sun goes down, Nishiyama marches to the end of his driveway and issues a call to arms.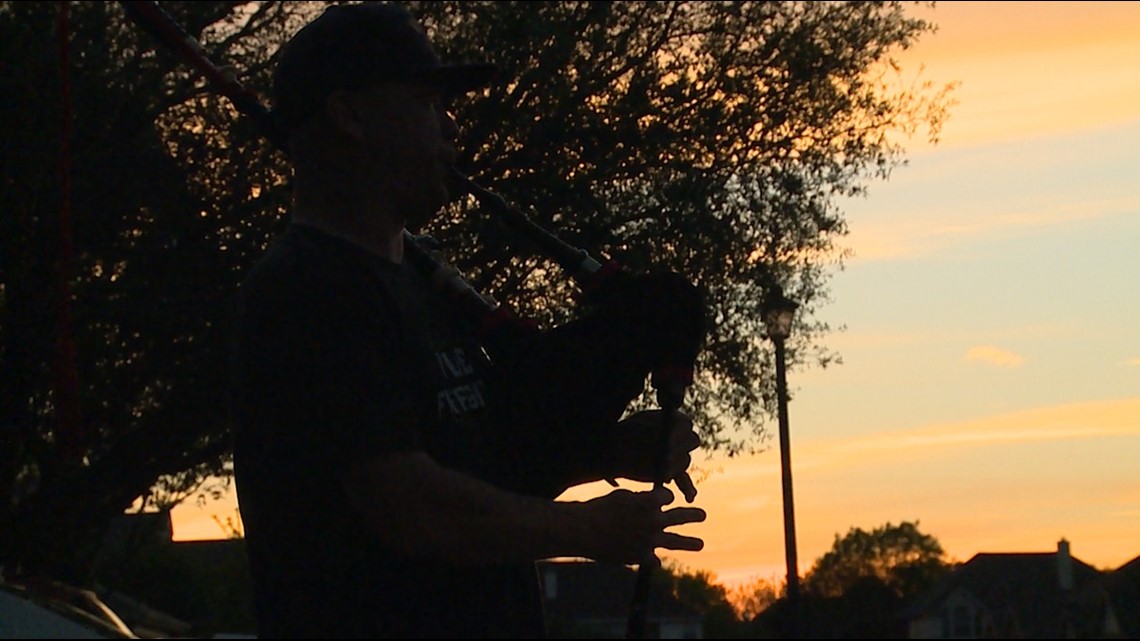 "Just to signify another day's passed, we're still here, we're still fighting the good fight," Nishiyama said.
Throughout history, Nishiyama says bagpipes have led warriors into battle as a way to inspire confidence and signify unity. Doing it in his driveway is his way of showing those on the front lines, including fellow first responders, that they're in this together.
"This pandemic's not really letting up every day, so if it's not gonna let up every day, we're gonna get out there and we're gonna do the same thing every day too until this thing's over with," he said.
But his performances aren't only for essential workers. He also does it for his neighbors, who now appreciate it as much as anyone.
As soon as they hear Nishiyama start, they stop to admire what he's doing.
"When someone sees that there's somebody out there playing every single day, that's not backing down, I would think that would instill a little bit of confidence," he said.
A virus no one can see may, at times, seem like an impossible enemy, but people like Robert remind us that we can and will get through this battle together.
More on WFAA: