HOUSTON – President Donald Trump met with the families of the victims of the Santa Fe High School shooting during a visit to the Houston area on Thursday.
He hugged survivors and families of those who died in the shooting. They called the president compassionate, sincere and open enough to give them hope.
On two buses, the Santa Fe families were escorted by sheriff deputies to meet President Trump at Ellington Airport in Houston.
With Texas Gov. Greg Abbott, the president faced two semi-circles of people from Santa Fe.
According to Galveston County Sheriff Henry Trochesset, the families included the wife of wounded Santa Fe ISD officer John Barnes and the parents of Jared Black, a student killed in the shooting. The families introduced themselves with stories of pain and loss.
"As some of the children that were in the room described some of the things that were happening while they were being shot or while others were being shot, (White House staff members) were actually crying," Trochesset said.
President Trump spoke next, Trochesset said. He wanted to hear potential solutions to school shootings from survivors.
"(The president) flat asked (one teenager) why did it happen," Trochesset said. "Tell me why you think it happened? They discussed everything from metal detectors in the schools and whether they should or shouldn't be there - to one husband of one of the teachers (said) this all started deteriorating when God was taken out of the schools."
For more than an hour federal, state and local officials listened. They intend to soon use victims' and victim families' ideas to better protect students and teachers, though the president's compassion left a lasting impression.
"To give them a hug, tell them he's sorry for their loss and be there for them it actually meant something to them," Trochesset said. "They told him that."
Air Force One touched down at Ellington Field shortly before 11 a.m., and the president was greeted by state and federal officials, including Governor Greg Abbott and Senator Ted Cruz.
The trip to Texas was originally tied to a fundraiser, but the White House confirmed Wednesday the president added to the itinerary time to meet with families from Santa Fe.
The meet was originally scheduled to last 50 minutes, but the president met with the families of the victims for more than an hour.
The Galveston Daily News reported he vowed to improve the school safety by making sure federal money is available.
Eight students and two substitute teachers were killed during the shooting at Santa Fe High School on May 18.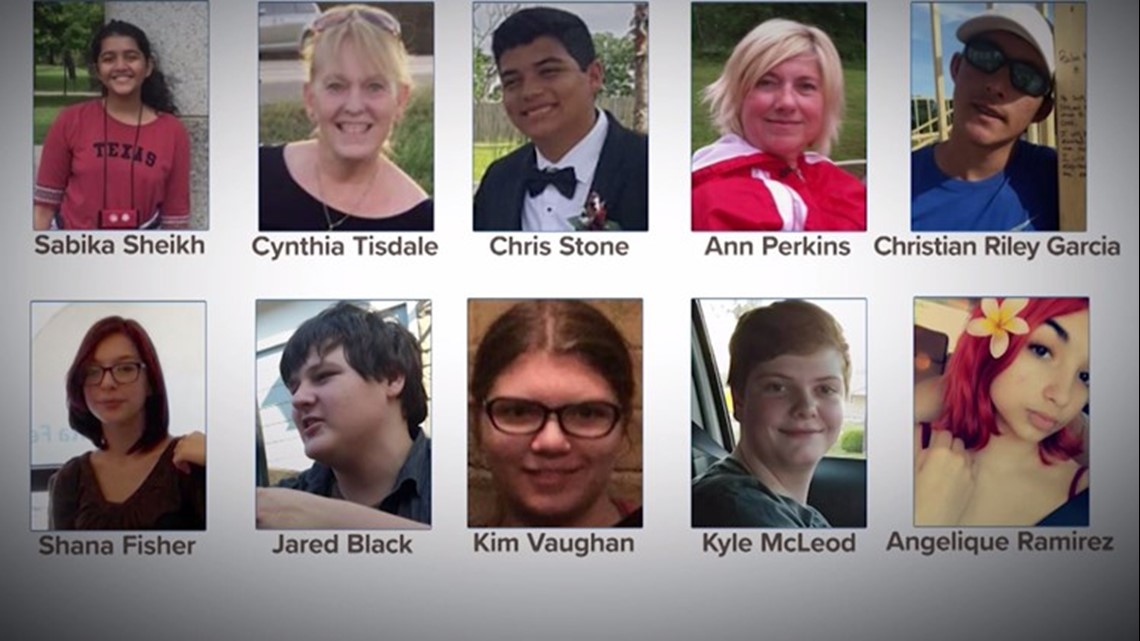 After meeting with the families, Trump attended a fundraiser luncheon at the St. Regis in River Oaks hosted by the National Republican Senate Committee.
It was a private event that sold tickets for $5,000 a person for the luncheon or $25,000 for those who wanted to take a photo with the president.
Air Force One took off from Ellington Field en route to Dallas around 3:15 p.m.
President Trump attended another fundraiser there before heading back to Washington D.C Thursday night.