AUSTIN, Texas — Gov. Greg Abbott issued an executive order on March 31 requiring Texans to remain in their homes, unless for an essential activity. On April 30, that executive order was allowed to expire.
On April 17, Abbott announced his plan for reopening Texas businesses amid the COVID-19 pandemic, issuing three executive orders outlining how the state would begin to reopen. That day, Abbott also said Texas schools would remain closed for the remainder of the 2019-2020 school year.
On May 18, Abbott said Texas was ready to enter "phase two" of reopening.
RELATED: Coronavirus in Texas: Gov. Abbott says Texas is ready to enter phase two of reopening state
Here's a breakdown of which Texas businesses have reopened so far and which will be opening next:
April 20
Texas state parks reopened with visitors still required to stay six feet apart. Many are now operating with reservations in place to limit the number of guests.
April 22
Restrictions on elective surgeries were loosened and standards were increased for nursing homes and assisted living facilities.
RELATED:
'My waitlist has basically quadrupled' l Austin surgeon works to address huge backlog in patients as more elective surgeries can resume this week
'All of us would want treatment to start yesterday' | Surgical oncologist happy governor's order allows elective surgeries
April 24
All stores in Texas able to operate "retail-to-go."
RELATED:
'Retail to-go' does not mean mixed drinks to-go, TABC says
How 'retail to-go' will work in Texas
April 27
Gov. Greg Abbott and Attorney General Ken Paxton issued updated joint guidance on religious services.
May 1
Texas restaurants, retail stores, malls, movie theaters and museums allowed to reopen at 25% capacity.
Most museums allowed to reopen at 25% capacity. Libraries allowed to reopen at 25% capacity without reopening interactive features.
RELATED:
Restaurants prepare to reopen dining rooms May 1
Retail stores, movie theaters, restaurants and malls able to reopen May 1, Gov. Abbott says
May 8
Salons, barbershops, nail salons and tanning salons may reopen. These businesses must operate with one customer per stylist. If customers are waiting inside, they must stay six feet apart; otherwise, customers should wait outside. Stations must be six feet apart and the governor recommends that customers and stylists wear face masks.
RELATED:
Checklist: Hair salons, barbershops, nail salons and cosmetology salons can reopen May 8 with these guidelines
Texas barbershops, salons may reopen May 8; gyms reopen May 18, Gov. Abbott says
Reopening Texas: Here's what is set to open next in Texas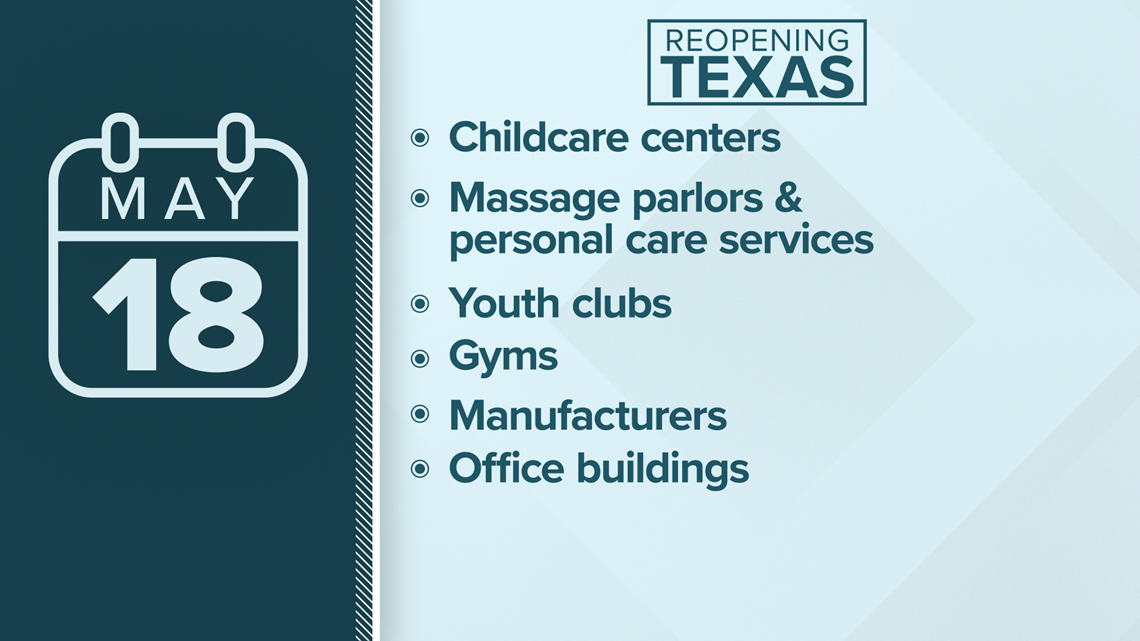 May 18
Gyms and other exercise facilities may reopen, as long as they meet the 25% capacity requirement. Showers and locker rooms must remain closed and equipment must be disinfected. Gym customers should wear gloves that cover the entire hand and fingers. Customers at gyms also must be six feet apart.
RELATED: Gyms reopen on Monday, but will look a little different
Non-essential manufacturers may also reopen at 25% capacity, as can businesses located in office buildings with some restrictions. Also allowed to reopen: massage services, electrolysis, waxing, tattoo studios and hair loss treatment and growth services.
Child care facilities may also reopen with certain standards, and youth clubs such as Boy Scouts, Girl Scouts and FFA may hold meetings with social distancing practices in place.
RELATED: Checklist: Child care centers, summer camp, youth sports programs may open under these guidelines
Additionally, as of May 18, camping in Texas state parks may also resume, with social distancing practices still in effect.
May 22
Bars, wine tasting rooms and breweries will be allowed to reopen at 25% capacity. Restaurants will be able to reopen at 50% capacity instead of 25%.
Bowling alleys, bingo halls, skating rinks, aquariums and a few other businesses will also be allowed to reopen at 25% capacity and with restrictions.
RELATED:
Checklist: How Texas bars will operate when they can reopen May 22
Checklist: Bowling alleys, bingo halls, skating rinks can reopen May 22 with these guidelines
May 29
Zoos may reopen with restrictions.
May 31
Youth sports camps, summer camps, daytime and overnight camps may reopen.
Some professional sports may return, including golf, auto racing, baseball, softball, tennis and basketball. Spectators will not be allowed to be physically present at sporting events.
RELATED: Pro sports can soon return to Texas...but without the fans
June 1
Schools will be able to offer summer school programs as long as they follow social distancing practices as soon as June 1.
Austin ISD told KVUE that as of May 18, all summer learning opportunities will be online. Leander ISD and Hays CISD also said all summer school will be entirely online. Round Rock ISD said they have planned for no in-person summer school, though their leadership team hasn't convened to discuss Abbott's May 18 briefing.
WATCH: Coronavirus in Texas: Gov. Abbott gives update on reopening state
PEOPLE ARE ALSO READING:
UT researcher says hospitals should prepare for surge in the coming weeks
'No Mask - No Entry' | Austin Zoo institutes new policies as it reopens during COVID-19 pandemic
LIST: Confirmed Central Texas coronavirus cases by county
Defenders Q&A: Will stimulus checks go to child support? Can baby wipes kill viruses?