FRANKLIN, Texas — A home video shows an exuberant, active teenage boy playing basketball and celebrating his birthday surrounded by friends. When you watch that video, you might find it hard to believe that same boy, Mhryun Hurst, had just gone through a grueling surgery that left his face swollen and his future uncertain.
"I see those pictures, just to see what he had to go through. It really took a toll on me," said his mother Raquelle Hurst.
VIDEO: Mhyrun Hurst playing basketball before moyamoya diagnosis
This is a story about when chance meets unwavering faith.
"I had faith in God. I just knew he was going to take me through and I would be just fine with him by my side," Mhyrun Hurst said.
His mother said the symptoms came out of nowhere.
"He called one day and he said mom, 'My face is numb and my speech is slurred, and my arm is tingling,'" Raquelle Hurst said.
A trip to the doctor came with a devastating diagnosis.
"You think it's just a regular visit. You just don't expect something like that," Mhyrun Hurst said.
That unexpected something has a name: Moyamoya. It's a rare, progressive cerebrovascular disorder.
"One of your major vessels gets narrower and narrower and that results in decreased blood flow to that part of the brain," explained Dr. Rabia Qaiser, the divisional chief of pediatric neurosurgery at Baylor Scott & White McLane Children's Medical Center.
Since the condition is so rare, there aren't a lot of people who are qualified to treat it.
"Right now the incident rate is 0.56 per 100,000 people," Qaiser said.
VIDEO: Dr. Rabia Qaiser on brain surgery process for Mhyrun Hurst
So what are the chances that less than a month earlier, Qaiser came to McLane Children's Hospital from across the country, and just so happened to call moyamoya her "passion?"
"He was my first moyamoya surgery here," Qaiser said.
If you ask Mhyrun and Raquelle Hurst, this stroke of luck, this meeting of paths comes from something bigger.
"We find out she had only been here for less than 30 days," Mhryun Hurst Sr. said. "So here's this disease that probably not a surgeon is here to do it, but God had already orchestrated her to come here from Boston, and when we bring him here, she's already here."
Mhryun Hurst underwent a lengthy surgery and some scary complications that led to a stroke.
"I said, 'Lord our story is not going to end like this. We've come too far for him to walk out of this hospital with half of his face drooping and not speaking right,'" Mhryun Hurst Sr. said.
PHOTOS: Franklin teen recovers from brain surgery after rare diagnosis
'I had faith in God. I just knew he was going to take me through': Franklin teen recovers from brain surgery after rare diagnosis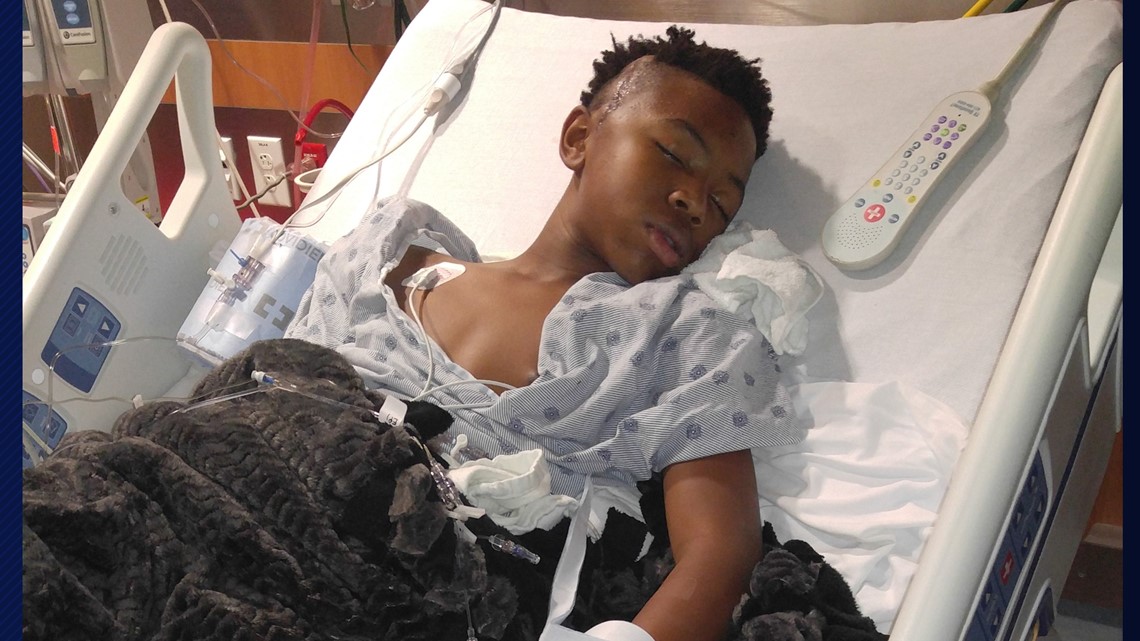 Finally, Mhyrun Hurst was on the other side.
"I trusted her through it all," he said. "It feels so good to be back, to be able to do all the things I can do again."
So when you watch that home video of a young man thriving, the Hursts want you to remember this story.
"If you're having symptoms get it checked out. It might be a matter of life or death," Raquelle Hurst said.
This triumphant tale is of lessons learned and friendships made, of resilience and faith.
"Only by the goodness and the mercy of God we are where we are today." Mhryun Hurst Sr. said.
Symptoms of moyamoya?
The first symptom of moyamoya disease is usually stroke or recurrent transient ischemic attacks (TIAs), especially in children. Adults may also experience these symptoms but more often experience bleeding in the brain (hemorrhagic stroke) from abnormal brain vessels, according to mayoclinic.org.
Headache
Seizures
Weakness, numbness or paralysis in your face, arm or leg, typically on one side of your body
Visual disturbances
Difficulties with speaking or understanding others (aphasia)
Developmental delays
Involuntary movements
Cognitive decline
The symptoms can be triggered by exercise, crying, coughing, straining or fever.
When should I see a doctor?
Think "FAST" and do the following:
Face. Ask the person to smile. Does one side of the face droop?
Arms. Ask the person to raise both arms. Does one arm drift downward? Or is one arm unable to raise up?
Speech. Ask the person to repeat a simple phrase. Is his or her speech slurred or strange?
Time. If you observe any of these signs, call 911 immediately.
What causes moyamoya?
The cause of moyamoya is not known. According to mayoclinic.org, the disease is more common in Japan, Korea, and China, which suggests that it may be genetic.
Moyamoya is also associated with certain conditions, such as Down syndrome, sickle cell anemia, neurofibromatosis type 1 and hyperthyroidism.
How is moyamoya treated?
The goal of treatment is to reduce symptoms, improve blood flow to the brain and lower the risk of stroke or death. Moyamoya is treated with:
Medication. Medicines like blood thinners, calcium channel blockers, and anti-seizure medications are used to reduce symptoms of the disease.
Surgery. According to Stanford Medicine, there are several procedures to treat moyamoya, and they all have the same goal: improve the brain's blood supply.
Therapy. Therapy addresses the physical and psychological effects of stroke.
Also popular on KCENTV.com:
'I just want to find my baby': Maleah Davis' mother makes emotional plea for help finding her daughter
Sandra Bland recorded her own arrest. Watch her cellphone video from the 2015 traffic stop
13 Reasons Why: The purpose behind each fold of the American flag