AUSTIN, Texas — Almost two million people are eligible to get the COVID-19 vaccine in Texas. Right now, that's only frontline health care workers and long-term care residents.
Here's how many have been vaccinated so far:
According to data from the Texas Department of State Health Services (DSHS), 42,248 people statewide have had the first dose of the vaccine. And there are 1,591,562 health care workers who qualify for this first round of the shot.
That means about 2.7% of all health care workers in Texas have received the first of two doses of the COVID-19 vaccine. And DSHS data shows so far, 224,250 doses have been received by a vaccine provider.
Of course, that number will rise this week, with the Moderna vaccine joining Pfizer in Texas distributions.
But on Monday, Austin Public Health's Dr. Mark Escott said there aren't enough doses of the vaccine for all of the health care workers in Travis County.
Dr. Escott said we got about 14,000 vaccines last week, we'll get a little more than 20,000 this week and we have about 80,000 local health care workers.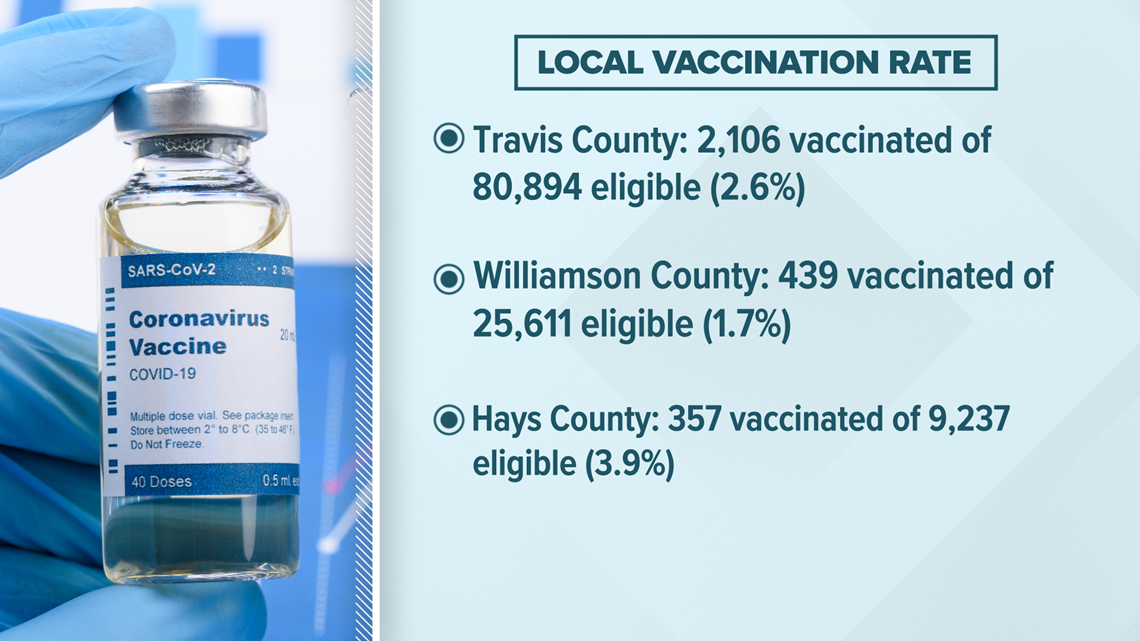 Data from the DSHS shows, in Travis County, 2,106 people have received the vaccine. And an estimated 80,894 people are frontline workers or a vulnerable population.
In Williamson County, 439 of 25,611 eligible people have been vaccinated. And 357 of 9,237 eligible people have been vaccinated in Hays County.
The KVUE Defenders asked several hospitals whether they are requiring employees to get the shot. All of the facilities KVUE heard back from said they do not require it, but they do strongly encourage it.