Robin Hood system: Saving our schools or robbing our kids' futures?
It is one of the most complicated, controversial topics for families in Central Texas. School finance didn't change much after this last legislative session despite promises from lawmakers that education funding would be a priority. The KVUE Defenders uncover what needs to change to help fund your child's school.
This year, Austin's school district will pay nearly half a billion dollars to help fund other school districts.
Eanes Independent School District will pay $93 million and Round Rock Independent School District will pay $9 million while Lake Travis Independent School District will pay more than $43 million. And property tax dollars generate all that money sent to poorer districts across the state.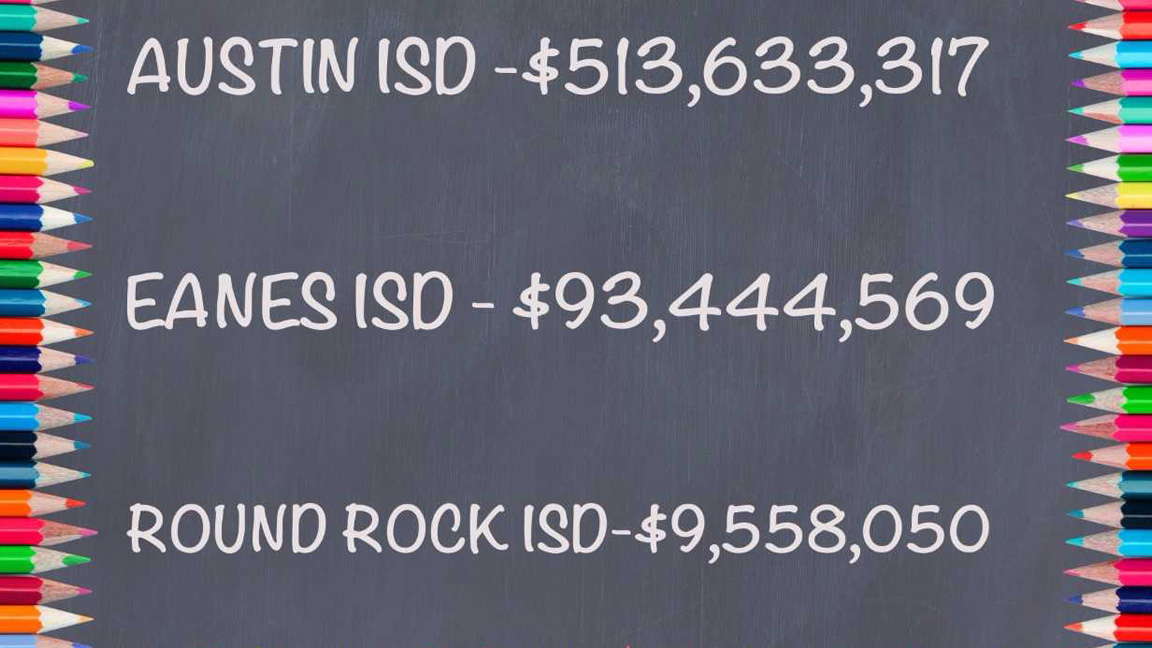 It's a system called Robin Hood, which was developed decades ago as a way to help even the playing field. The idea is that wealthier school districts could help poorer ones. Critics argue the formulas make things tougher for Central Texas school districts.
Recapture payments contribute about 11 percent -- or about $2 billion -- of school funding in Texas.
Other sources such as the lottery account for about $1.3 billion.
Fourth grade teacher Stephanie Stobe fears what it may mean for Round Rock ISD.
"I'm worried (about whether we are) going to have the right staff in the right positions with the right type of expertise to help our children who need help the most," she said.
As a teacher in Round Rock ISD for the last 10 years she's seen her district struggle to make ends meet.
"We just adopted our fourth deficit budget in the last six years," said Randy Staats, chief financial officer for Round Rock ISD. "The deficit this year is $14.8 million. To start with this year we're generating an additional tax collections of almost $29 million based on our projections and we're only able to keep $1 million of that."
How does Robin Hood work?
:
Texas set up the Robin Hood system in 1993. Here's a simplified version of how it's supposed to work.
The state puts in its share and local property taxes make up the difference. A formula that started out nearly fiifty-fifty.
But over the years, as local property tax collections have gone up, state funding has gone down. And instead of the state contributing 50 percent toward school budgets that share will drop to nearly 40 percent next year.
"It makes our budgets very challenging," Staats said. "Competitive salaries and benefits are difficult to keep up with sometimes and as other school districts provide salary and benefit increases for their staff members we've got to do the same or we risk kind of falling behind."
Here's a simplified breakdown of how the Robin Hood system works:
'It's very frustrating': Lawmaker reacts to lack of change
:
Texas lawmakers promised things would change this legislative session.
"It's very frustrating," said State Rep. Donna Howard.
The KVUE Defenders asked Howard what she has to say to parents and educators who feel as though lawmakers failed them on this issue.
"I do feel like the legislature as a whole did fail parents and taxpayers and particularly our children because they are not getting what they need," Rep. Howard said.
Meanwhile, bond packages keep growing
:
Round Rock ISD was able to give teachers and staff 2 percent raises this past year, but a bond package that would have helped build new schools failed. Recapture payments do not help build new schools. That's what bonds do. Yet school districts argue the lack of state funding for education is changing the scale of the bonds.
Austin, Bastrop, Lake Travis and Leander school districts are now all asking voters to approve millions of dollars in bonds to help build new schools. This is a look at all of the school bonds that are currently proposed across the state.
"Over time I've seen a lot of districts that have set aside money for the general operating budget and so you're seeing those slide on over into the bonds and that's why you've seen larger bond packages presented to voters in recent years," said Staats.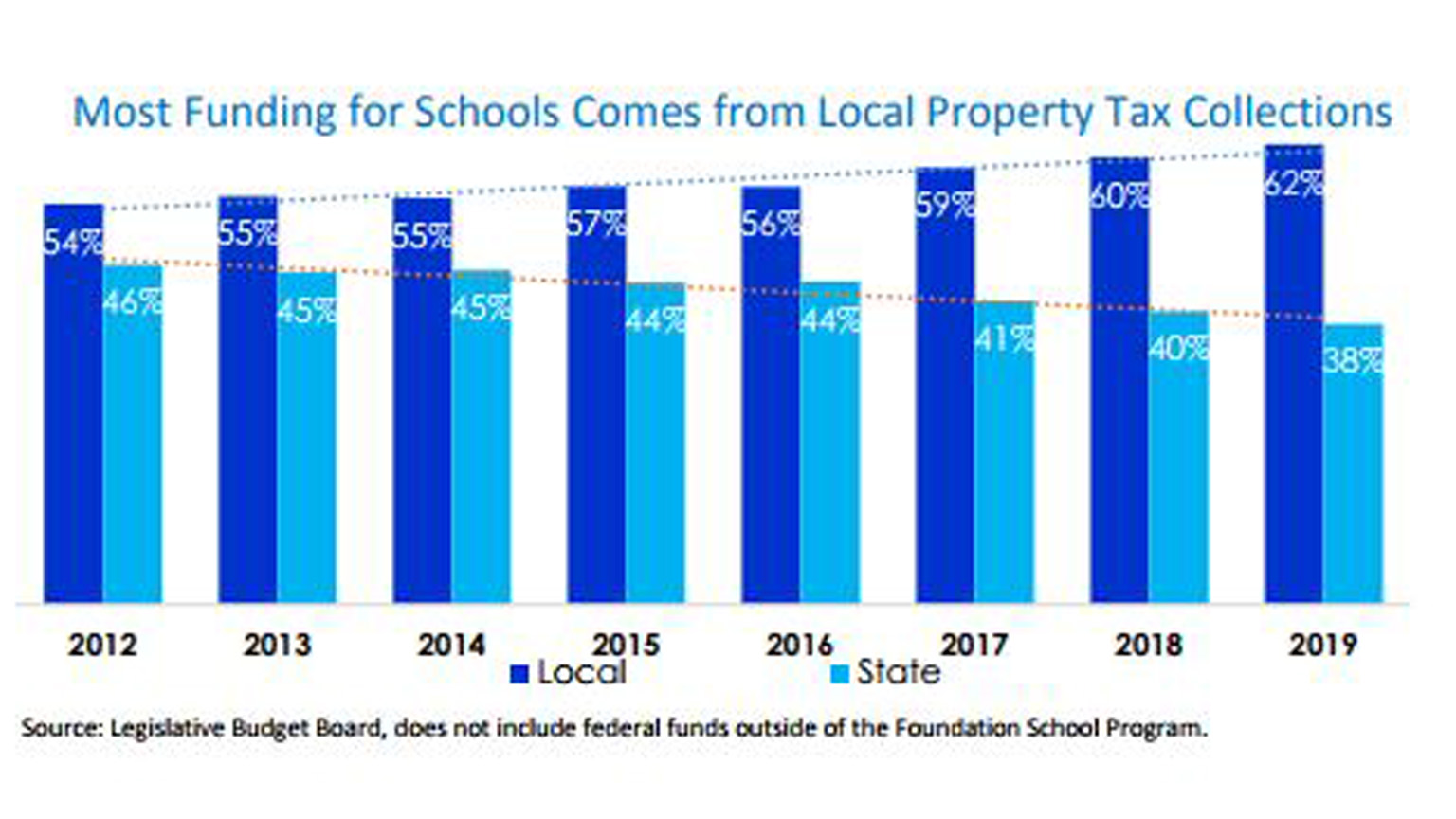 State Rep. Howard said she feels the frustration from the taxpayer's point of view.
"The current funding mechanisms we have are not sustainable. As property taxes continue to grow the state continues to shift the state to the property taxpayer. Even with those extra property taxes we're treading water. The schools aren't getting any more money. It really is frustrating when you are seeing your local property tax bill go up and you know your schools need more resources and yet you're sending a huge portion of that back to the state to help other schools," Rep. Howard said.
It's hurting school districts as well, Staat said.
"In 1993 there were 34 school districts that were identified as property wealthy at the time. That number has ballooned to nearly 300 now. So you've got a quarter of the state that's paying back funds to the state to fund education," said Staat.
You can see what your school district pays into the recapture system and how it has changed over the years here.
Many people question who is really being helped. Some argue the system is no longer the Robin Hood system, but that it's instead robbing their neighborhoods.
"It feels that way in Austin," admitted Rep. Howard. "Austin is the biggest source of recapture dollars in the state. At the same time we have a population. Sixty-percent of our population is considered low income."
Taxing cigarettes? Searching for a solution
:
"In some ways I do feel the future of our kids is being robbed," Stobe said. "We're beyond band-aids. As resources are taken away from the schools the common teacher is going to have to step up even more."
Stobe is hoping to serve on a committee formed by Gov. Greg Abbott to address school finance. If selected, she will be the only teacher on a board of 13 expected to meet over the next year.
The board will weigh options that include looking at what other states such as Colorado do. Colorado uses tax dollars from marijuana to help fund education.
"We do have such things as the gasoline tax. Five cents already goes to education, but we've never indexed that to go toward education. We could look at what some other states have done. They've actually taxed more on cigarettes and e-cigarettes," Rep. Howard said.
Teachers such as Stobe are hopeful finding new sources of revenue could significantly change the future of the students they teach.
"I love the excitement in the kids when they get something," she said. "Currently the way the school finance system is structured in Texas I don't think is very equitable."
Staats said this current system could have negative consequences down the road.
"At some point we won't have businesses that want to come here if we don't have sufficient staffing and if students coming up through the ranks are not ready to take on those jobs," Staats said.
What happens in the classroom ultimately paints the future of Texas.