Gone Cold | 'Disco Dan' remains Hewitt's oldest unsolved murder
Nearly 45 years ago, a Hewitt farmer discovered the body of a John Doe. Still with no answers, police are getting creative to help identify him.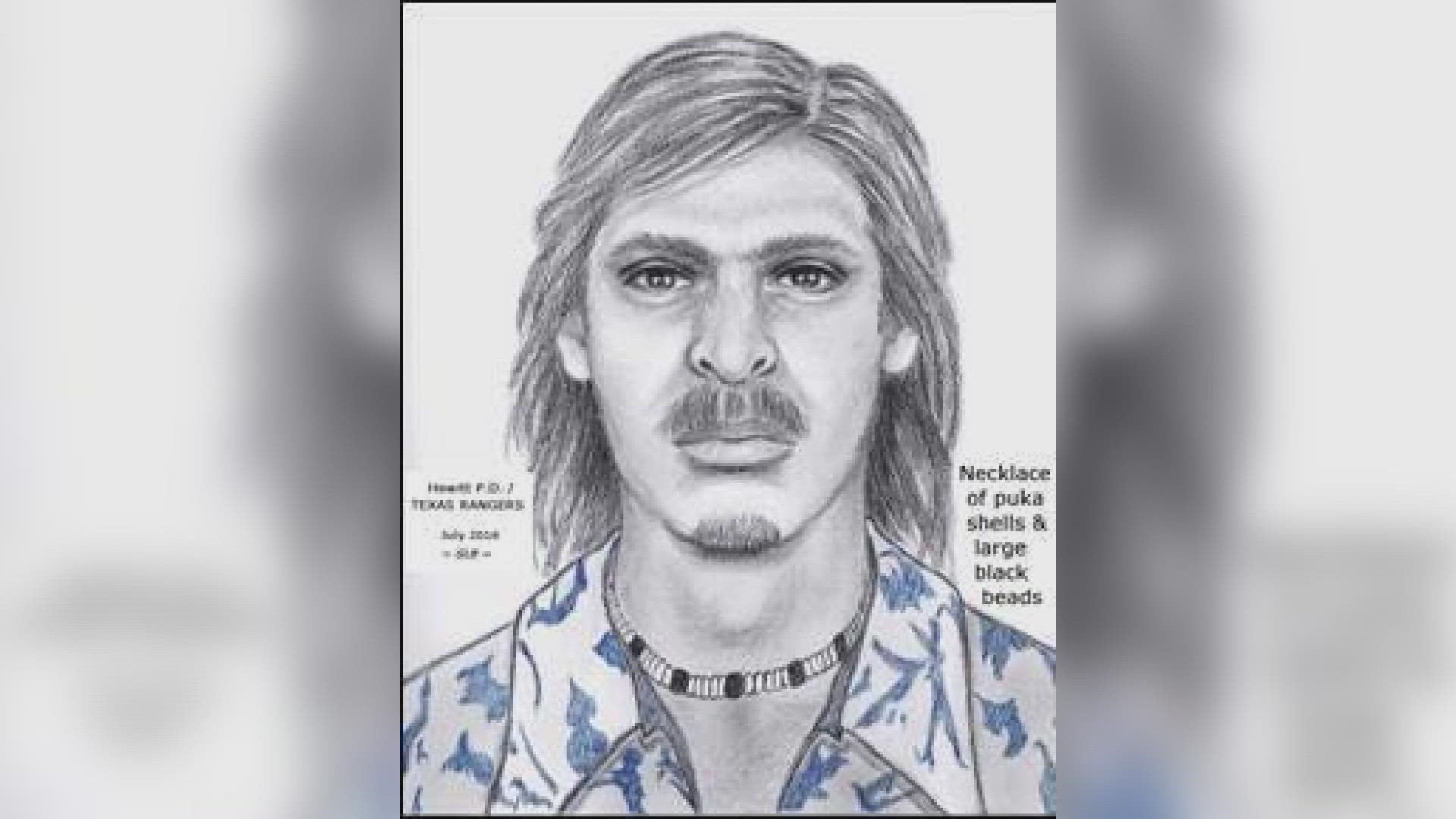 Since 1978, officers rotating in and out of the Hewitt Police Department have become all-too familiar with the name "Disco Dan," or the John Doe whose body was found -- with a bullet-hole in his head -- inside a drainage culvert along what is now W. Spring Valley Road.
It's a case that frustrates Devlin "to no end," he admits.
"I haven't figured this one out yet," Devlin, who has been with Hewitt PD since 2009 and police chief since 2012, sighs.
Even so, he says he isn't giving up hope.
"I have hope," Devlin says. "I think we can solve it. I just need one piece to fall into place to figure out who this individual is."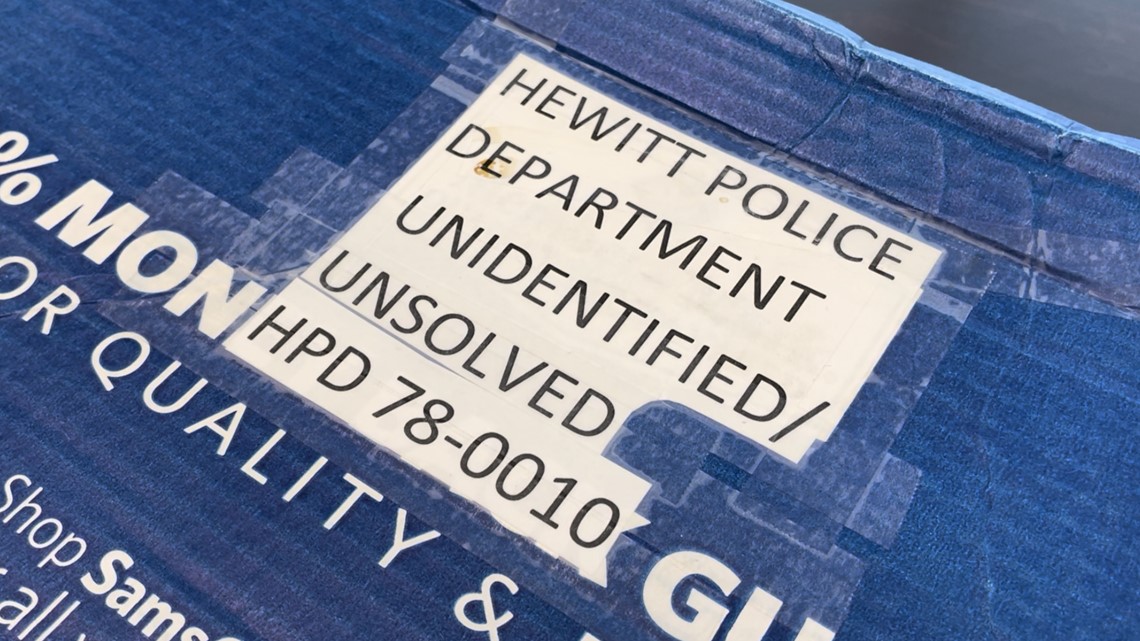 Discovering the John Doe
:
'No cash, no wallet, no identification'
It was a quiet, gloomy day on April 3, 1978. Travelers along FM 2113 (now W. Spring Valley Road) saw nothing but farmland stretching for miles; a common sight in a small town of a few thousand.
That morning, one farmer was tending his fields when he noticed something sticking out from a drainage culvert. The culvert was hidden from plain sight under the road, Devlin says.
Out of curiosity, the farmer approached the culvert and noticed a pair of boots. Attached to those boots was the body of a man who was lying face down, dead in drainage water.
Shocked, he told his worker to go get help.
Crime scene photos in 'Disco Dan' cold case
Authorities removed the body. Immediately, they noted a few observations of the man:
The man was fully clothed. He was dressed in a nicer, long-sleeve button down shirt with a blue and white pattern. He was also wearing a pair of Levi's blue jeans (size 32) and a pair of Wellington-brand boots (size 10 in men's), a newer pair because they didn't have much wear to them, Devlin says. On his neck was a puka shell necklace with large black beads.
The man also didn't have anything on him, Devlin says.
"No wallet, no cash, no identification," he explains.
One thing was for certain though: Someone shot him in the head, Devlin says.
Devlin says they believe the man was shot somewhere else, then dumped there because there was no evidence of a murder at the scene; just a Snoopy medallion near his body.
Investigators also believe he was there for a few days, based on his body's state of decomposition.
"You can imagine being in a drainage culvert where waters flowing through that will have a tendency to destroy a lot of the crime scene as well," Devlin explains.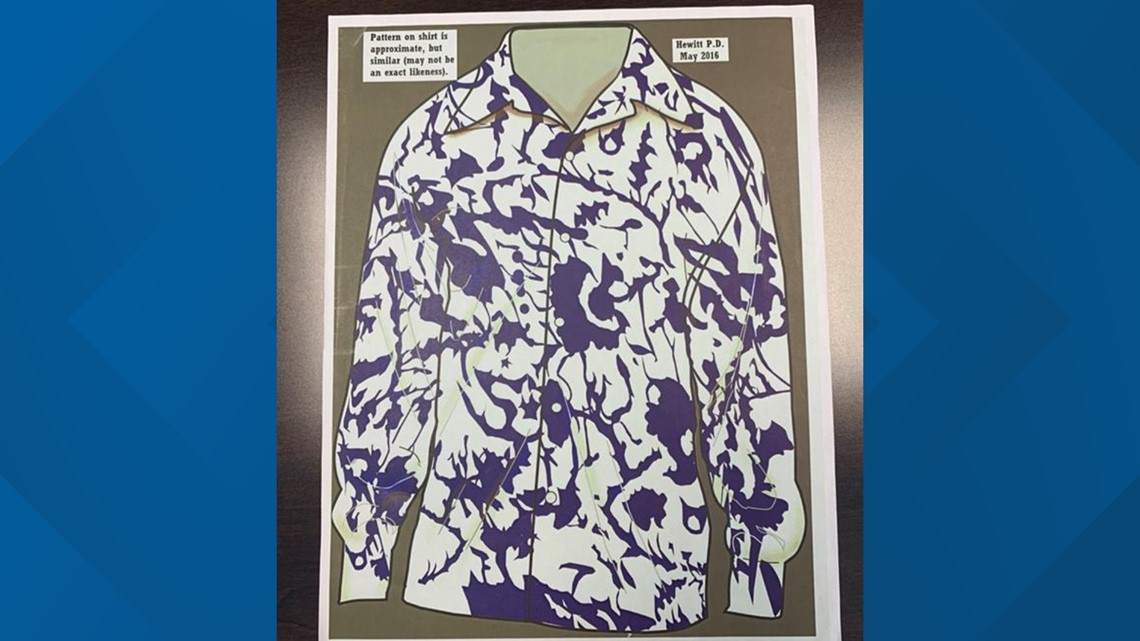 To the investigators' dismay, his face was "pretty unidentifiable" when he was found, Devlin says.
"The facial photographs of the individual at the crime scene are not something that could technically be aired on television because of the graphic nature," Devlin explains.
Medical examiners later performed an autopsy on the man. They confirmed his cause of death was from being shot in the head. He didn't appear to have any other trauma to his body, according to the report.
The report also noted that they found drugs, alcohol and a burger in his system.
The medical examiner also managed to extract a bullet fragment from his skull, which would be used decades later by Devlin to test for DNA.
Dead end after dead end
:
No identity = no suspect
Flash forward to nearly 45 years later where the man still has no identity. Devlin says they can't even begin to search for a suspect until they can figure out who this John Doe is.
Throughout the years, Hewitt PD made several attempts to try and find out this case's age-old mystery.
Who/What is 'R.B.?'
In 1978, Devlin says they tried running his fingerprints, but didn't get any hits. He says they also tried searching for his dental records, but no matches were found.
The man didn't have any surgical scars, either, he adds.
"We don't have anything that really sticks out other than that particular tattoo," Devlin says.
Devlin explains the man had three tattoos, but there was one tattoo that stuck out to them the most: The initials "R.B." inside his upper right arm.
"We have done a lot of work on that tattoo," he shares. "We have reached out to see if it has any real significance. We believe it's a personal tattoo as most are..."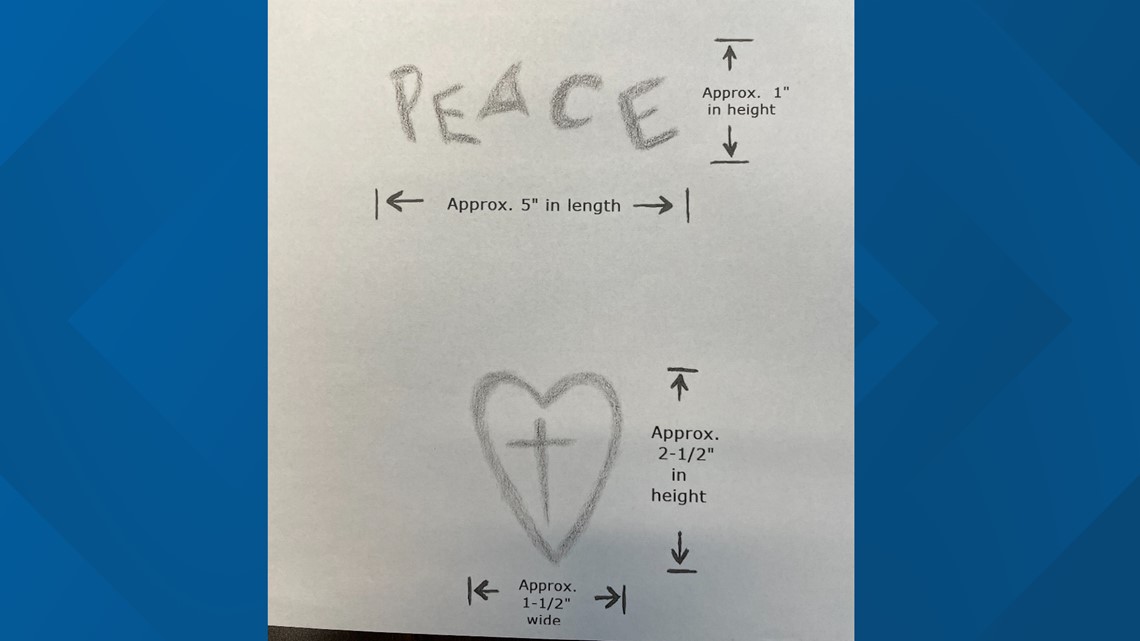 "We haven't been able to coordinate what that is," he adds. "We have some theories, but based on, you know, some of the evidence that we recovered there as to the meaning, but there's no clear connection to any of that that we can figure out."
As for the other two tattoos, Devlin shares a photo of reproductions of them. All look homemade, Devlin says.
One tattoo is a heart with a cross on his inner, upper left arm that measures about 2.5 inches in height and 1.5 inches wide; the other is the word "PEACE" all capital letters on his left forearm measuring about 1 inch tall and 5 inches wide.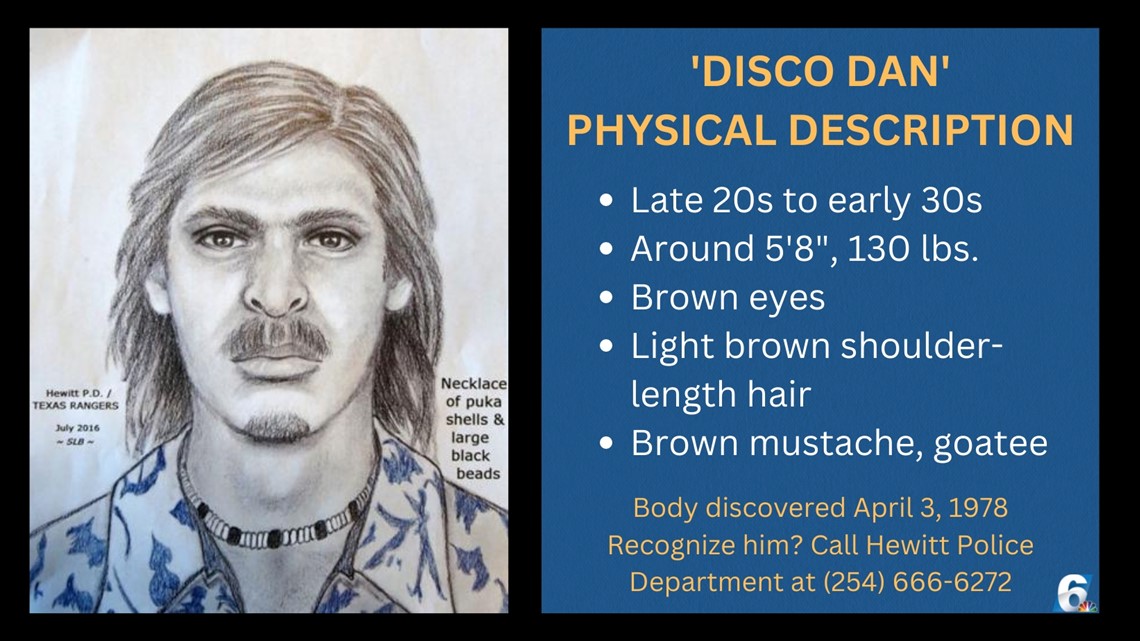 Dead end after dead end
Since becoming police chief in 2012, Devlin says one of the first things he tried to do was exhume the man's body from his burial place.
"I thought that was going to be one of the easiest routes," Devlin explains.
The man was buried locally in a pauper's grave near Rosemound Cemetery in Waco around 1978. Police managed to find the worker who dug his grave at the time, but he told police he didn't know where the body was in the field.
"There was no real rhyme or reason on how those bodies were placed into the pauper's grave," he exhaled, frustrated at this dead end.
During the interview police conducted with the worker, the worker explained they would just find a random spot in the field and start digging a grave. Sometimes, the worker said, they would stumble upon someone else's remains. When that happened, they would have to move to a different spot and try again, Devlin explains.
"So that instantly cut that out, even though that's the route we wanted to go," he said.
Determined, Devlin shares how his department then tried to look at other evidence they knew existed -- his personal affects -- to try and get DNA. Devlin explains that the thought of submitting that DNA to a genealogy company to figure out his identity -- similar to how authorities were able to identify the Golden State Killer -- crossed his mind.
Unfortunately, that was another dead end. His personal affects were nowhere to be found, Devlin says.
"We can only assume that those evidence items are buried with the body," he says.
Devlin says, at that point, the only remaining piece of physical evidence was the bullet fragment medical examiners removed from his body during the autopsy.
"Now, that bullet fragment did have DNA testing very early on in the investigation, but you know as well as I do DNA testing back in the '70s, '80s, '90s is not as it is in 2022," he says.
He says Hewitt PD ended up sending that bullet fragment to a newer, private company to try and test the DNA. The result? Inconclusive, he sighs.
"I'm really sad that the DNA isn't available," he shares. "... There's not enough on that fragment to even pull off any DNA."
Devlin says there is some remaining DNA on the fragment, but he doesn't want to push his luck quite yet.
"The issue then becomes the more you test it, the more the potential that the sample there could be degraded," he explains. "So we still remain and still have that piece of evidence, hoping... If we gather intelligence and develop something else, that may lead us to doing it again and hopefully connecting the dots there."
With these dead ends, Devlin explains that Hewitt PD hasn't come up with any new leads over the decades.
"We haven't really discovered anything new and that's frustrating for us," he said. "That's absolutely frustrating that we haven't been able to develop anything more than what we originally had."
Still, Devlin turns to newer technology original investigators didn't have in hopes of bringing new eyes to the case, including the power of social media.
The birth of 'Disco Dan'
:
'Disco Dan's rise to social media
Up until 2016, the man in the 1978 cold case was only known as "John Doe" to officers, as well as the public.
That year, Devlin wanted to come up with a name that would bring more public awareness to this case. Looking at the pattern of his shirt and thinking about the decade he was found, Devlin dubbed him "Disco Dan," he says.
"I think my staff thought I was off, a little bit crazy... was an inappropriate moniker," he said. "It was more so to draw attention because of the basically lack of evidence that we have that relates to this case."
So, Devlin says he decided to take it up another notch: He created a Facebook page for him, too.
"Popularity of social media was booming in 2016 and we needed to set it apart...," he explained. "...We needed to have something that when people saw this name, they wanted to click on it and find out exactly what this was."
Today, Disco Dan's page has close to 1,000 page likes, as well as nearly 1,000 followers.
"One of the things you want to do is you want to try to put as many eyes on a case like this as possible, and believe it or not, the Facebook page has done that," Devlin explains. "We have a lot of people across this country and even across the globe... the hits we've received give us information."
"And at this point, we'll take any information we could, possibly can on this particular case," he adds.

The importance of forensic art
:
'It helps us get people identified'
With very little evidence to work with, the Hewitt Police Department turned to forensic artists to help create a profile of Disco Dan, a method law enforcement deems important.
"Forensic art has a job to do," says Suzanne Baldon, a McLennan Community College professor of criminal justice, forensic science and anthropology. "It helps us get people identified."
Baldon, who has been a forensic artist since 1996, explains forensic art takes the shape of many forms: composite drawings, post mortem drawings, age progressions and facial reconstruction.
Facial reconstruction is Baldon's specialty. Her skills are highly accredited by law enforcement agencies across the country thanks to her level of success with positive identifications, including the 2006 murder of Dana Leigh Taylor.
In Taylor's case, her remains were found in a wooded area near Waco. When authorities were able to determine it was her, they were able to arrest and convict white supremacist Robert Allen Byrd with her murder in 2008.
"It makes me feel very satisfied that I was able to help, you know, that with what I'm able to do, that I can help get somebody identified, and then maybe even help catch whoever did it," she said.
In the case of Disco Dan, forensic artists created two post mortem drawings, or drawings based on unidentified remains. The first drawing was created in the '80s and a newer one was created in 2016.
These sketches are "really the only thing [they've] got to go on," Baldon explains.
"Somebody somewhere may see that and it may play out, but it takes the right person at the right time to say something and recognize somebody," she says.
Though Baldon wasn't involved in the two sketches, she explains why the newer sketch is "really good."
"You've got the colors of the shirt that can really help," she explained. "You've got this necklace that was a little shell necklace. That should help."
From the sketch, she also describes Disco Dan as a "stylish young man."
"I feel so bad for him, his family," she said, reacting to the photo. "Somebody is missing him and I don't know why we haven't managed to get him identified yet."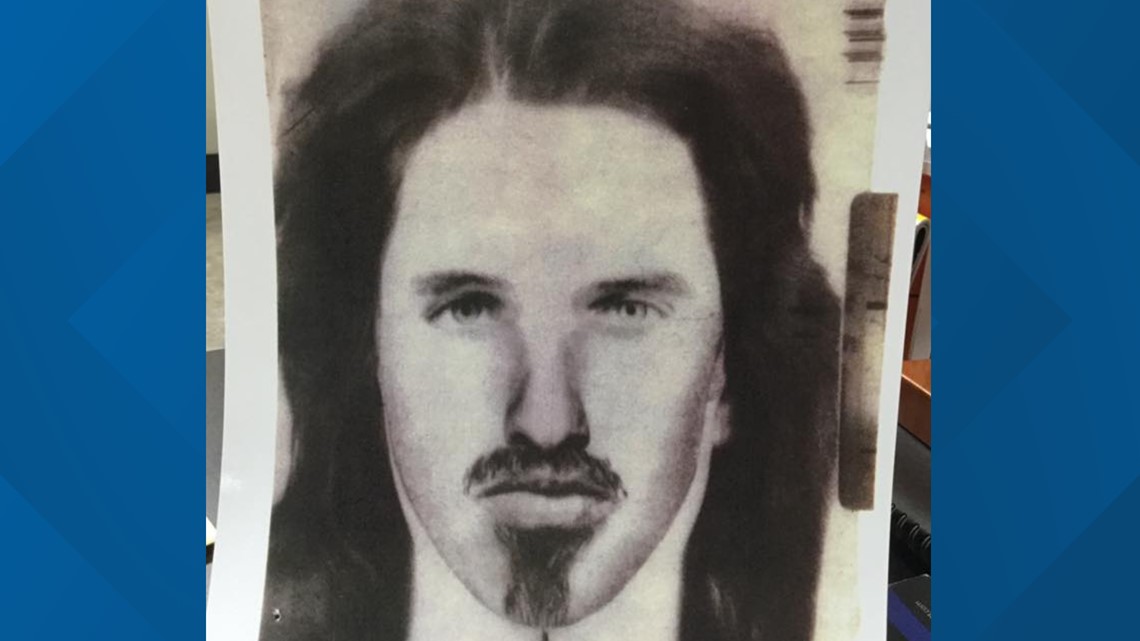 Killed by a serial killer?
:
Ottis Toole interviewed
Devlin says there's been some talk about how Disco Dan was murdered by serial killer Ottis Toole, but Devlin says there's no evidence to support that.
Still, he acknowledges the idea came across investigators' minds in the past.
At one point during the investigation, Texas Rangers contacted Toole while he was in prison in Florida. They showed him crime scene photos, but Toole said he didn't kill him.
"In the report was 'yes, I've killed white males, yes I've put them in drainage culverts, but I'm not responsible for this murder,'" Devlin explains.
Though Toole was in the Waco area at the time, Devlin stresses there was no physical evidence that ties Toole to the murder.
"That part of the investigation, we know, we've set off to the side," Devlin says. "I don't want to go chasing a rabbit hole that doesn't exist because it's someone that was a serial killer or known serial killer."
Hope still remains
:
How you can help solve this case
Inside an office at the police station, Devlin pulls out a blue storage box. He pulls off the lid and begins to sift through the many handwritten notes, documents and photos containing everything they know about Disco Dan.
"We've tried quite a bit over the last 12 years," he says. "We look at this case very often... We've come up with some really good ideas. None of it really panned out, but at least it puts us on a path of somewhere else."
Still, he says he remains hopeful his department will close this case and allow them to put the box away for good. All he needs, again he says, is that one piece of information to help piece the puzzle together.
"I think if anybody has any recall of that particular area off of Spring Valley... any information, even if you think it's just the most insignificant piece of information, please let us know about it. We want anything we can get our hands on to assist us in solving this."
If you know any information about Disco Dan, or know somebody who may have information, contact the Hewitt Police Department at 254-666-6272.