KILLEEN, Texas — The Killeen Independent School District school board approved its $16.8 million salary increase package as a result of the passage of House Bill 3.
At Tuesday's board meeting, the presentation and vote to approve across-the-board pay raises was passed unanimously and will begin in the 2019-2020 school year.
"It's obviously really monumental," superintendent John Craft said after the vote. "When we look at what we're going to be able to do, for not only our teachers, which are obviously seeing the biggest impact, but all employees, it's significant."
The approved beginning teacher salary is $50,300 for the upcoming school year.
HB 3 turned into a long debate over bus driver pay. Bus drivers are currently slated for an 8% raise.
After the meeting, Rick Beaule, a KISD music teacher and President of the Killeen Educators Association, said while bus drivers didn't get everything they asked for, he wants to make sure all KISD employees see Tuesday night as a win.
"If you try to do things in terms of everything or nothing, sooner or later, you're going to get nothing," Beaule said. "Did we get everything we wanted? No. But you're still a little bit better off than you were before and that matters."
Craft presented the board with the compensation plan during the meeting.
The plan consists of raises ranging from 3.5% to 10% and breaks down to:
Teachers, depending on experience: 6.6-10%
Bus Drivers: 8%
Auxiliary Staff: 6%
Librarians, Counselors, Nurses: 4.5%
All other employees: 3.5%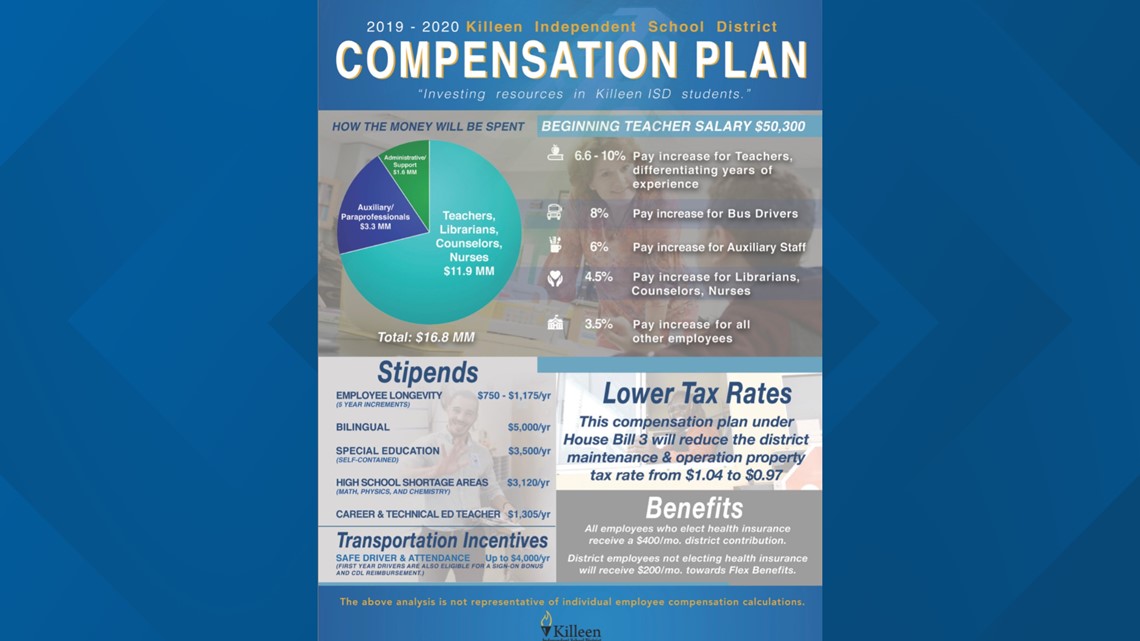 The district also announced the plan will drop the district's maintenance and operation tax rate from $1.04 to $0.97, another portion of the approved HB 3.
Beaule said the door to improve the plan in the future remained open, as well.
"They did give the opportunity to come back and re-open, if revenues turn out to be greater than expected," Beaule said. "So, there are some additional opportunities there."