FRANKLIN, Texas — Around 300 Entergy Texas linemen and support staff flooded into Franklin, Bremond, Kosse and Calvert to bring power back to those areas after a tornado and high winds knocked down lines on Saturday.
Entergy Texas said about 6,000 people were without power after Saturday's storm. One of the biggest issues was the fact a high voltage line near Highway 6 fell, and crews had to put up multiple large structures to fix the line Sunday night.
Power line damage following tornado in Franklin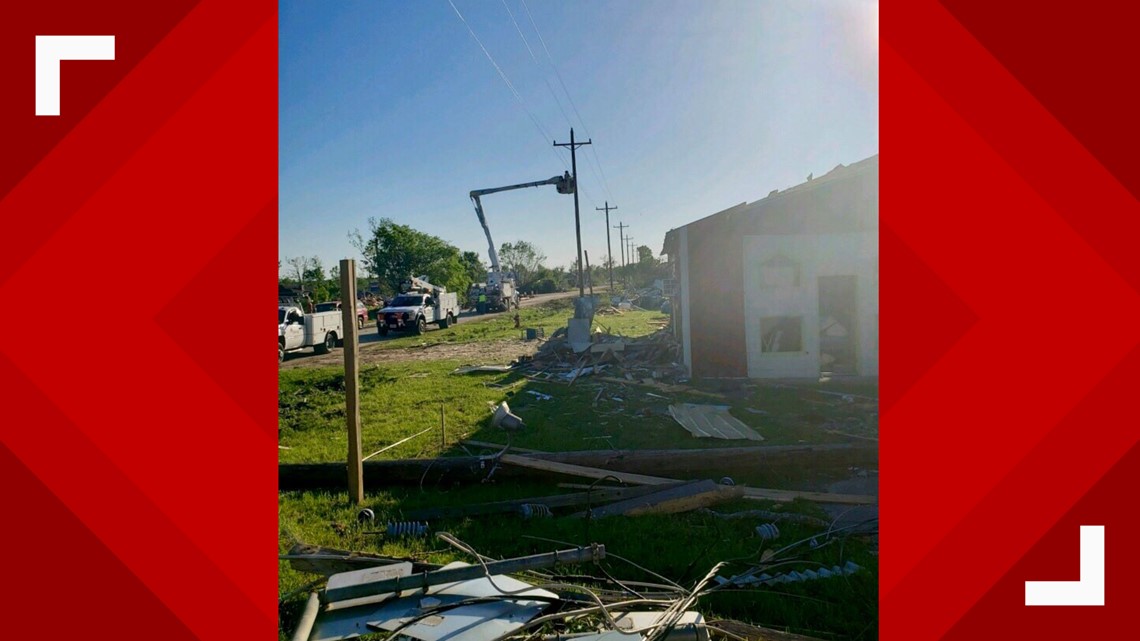 So far, crews have restored power to more than 3,000 customers in the Franklin area. Entergy Texas said the whole city will have its power grid restored by 8 p.m. Monday night.
However, Entergy Texas communications specialist Kacee Kirschvink said it's still up in the air whether the homes will be ready to receive that power.
"We have to go door-to-door to check for damage," she said. "A lot of these homes are not going to be able to take power. They are going to have to bring in a FEMA Trailer a lot of times. They'll get temporary meters hooked up to a trailer."
Even when power is restored, a lot of homes and churches will still need repairs.
Entergy Texas said people should follow these safety tips:
Stay away from downed power lines, since live wires can be deadly. Call 1-800-9OUTAGE or 1-800 968 8243 to report downed or dangling power lines, poles or other damaged equipment.
Do not trim trees or remove debris on or near downed power lines. Only power company crews or their contractors should remove trees or limbs touching power lines.
Keep away from the immediate areas where crews are working. There is always the danger of moving equipment and the possibility of construction materials or limbs or overhead wires falling to the ground.
If you plan on using a generator for temporary power, get a licensed electrician and disconnect from the utility electric system before hooking up to your home main electric panel.
Do not run a generator in a confined space without adequate ventilation.
Avoid using candles or other flammable devices to warm your home.
Customers can get information about outages at www.entergy.com/viewoutages.
Volunteers are still needed for cleanup. and if you're willing to lend a hand, call 979-828-6680.
Other stories on KCENTV.com:
Transmission line issue caused around 7,500 customers to lose power in Waco area, Oncor says
Temple Fire Department to buy swift water recovery boat with $24,000 grant