WACO, Texas — Amyotrophic lateral sclerosis, also known as Lou Gehrig's disease or ALS, impacts thousands of families across the U.S. every year. ALS affects nerve and muscle function, and people who are diagnosed with it usually have a 2 to 5 year life expectancy.
Through Project Revoice, the ALS Association is on a mission to give people with ALS a little piece of their freedom back: their voice. The project encourages patients diagnosed with the disease to record and digitize their voice before they ultimately lose it.
"It's like carrying a 500-pound gorilla on my back every day, all day long," Laura Weiss, who was diagnosed with ALS in 2017, said. "Imagine aging 50 years overnight."
The disease moves fast, robbing patients of their day-to-day functions.
"We went to a piano bar one night. I noticed that for some reason my tongue was not working right when I sang," Weiss said. "Little did I know that less than four months later, I would be given the death sentence diagnosis of ALS."
Weiss said the disease brought many challenges.
"It is beyond frustrating when your body cannot do what you ask it to do," she said. "Everyday losing the ability to do something you could do just the day before."
While her body is on the decline, Weiss said her mind is as keen as ever.
"Maybe even sharper, because that's all you have," she said.
In July 2017, Weiss' husband learned about a system called ModelTalker online. After downloading the software, she recorded herself reading every single line from 'The Wizard of Oz' using the online service her husband found.
Her ALS made this a daunting task.
"There were 1,600 phrases in all," she said. "Since I was already having speech issues, it was exhausting. The software gives you feedback on how well you are speaking and prompts you to try again if the recording isn't good enough."
Weiss said it sometimes took her dozens of tries to get down some phrases.
Although she physically can't speak, her voice can still be heard thanks to all that work.
"It has been fantastic! I love being able to communicate in my own voice," Weiss said. "It does sound very much like me."
Laura Weiss, the ALS patient who gave herself a voice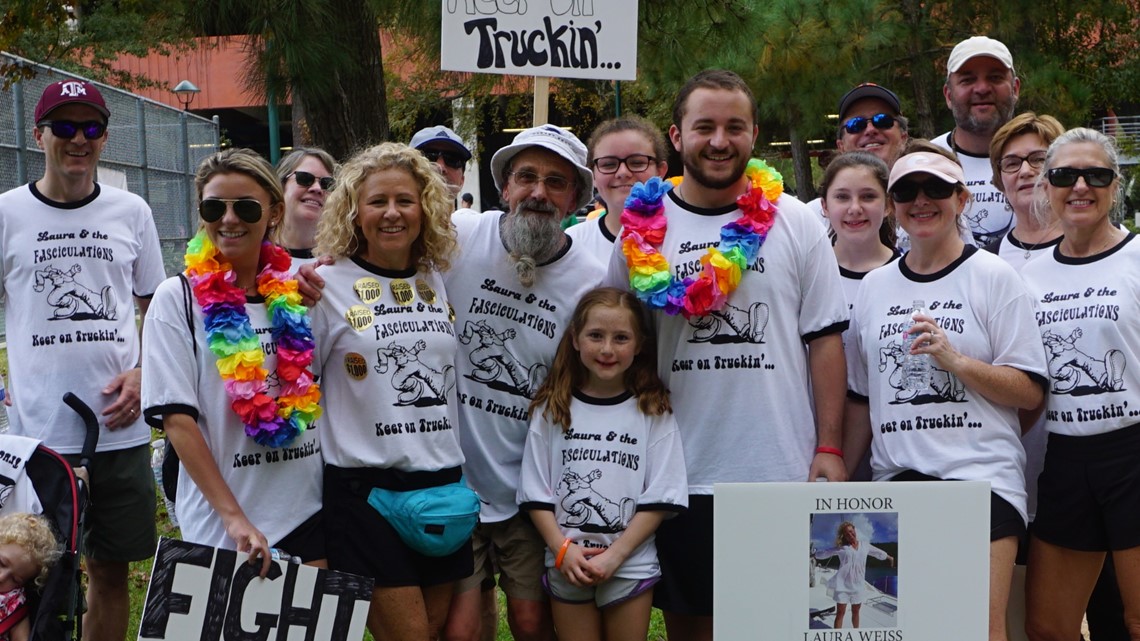 Not only did Weiss recover her fading voice, but she also was able to renew her wedding vows.
"Being able to do that in my own voice was priceless," she said.
For Weiss, it took months to get the recordings to become a robust version of her voice. With new technology, patients can record their voices in about three hours.
The sooner it's done, the better the recording.
"It gives back that dignity and that personal touch," ALS Association of Texas Regional Director Janette Surrett said. "That helps people really still have hope."
Through Project Revoice, the ALS Association is spreading the word about voice banking with the free initiative.
"Your voice is starting to go, it weakens and it can go quickly," Surrett said. "As soon as we can possibly capture that, we can give back part of that patient's identity."
While Weiss wasn't a part of the initiative, she said having her own voice is vital for her and future patients.
"I certainly feel that my quality of life is better with me having the ability to use my own voice as opposed to a generic one," she said. "It will be of some comfort to newly diagnosed people that there is a way to keep ALS from stealing their voice from them."
Weiss said she's going to Washington D.C. for the ALS Association Advocacy Conference from June 9 to June 11.
"I plan to share my thoughts and feelings to my representatives in my own voice," she said.
Learn more about Project Revoice here. To donate to the ALS Association of Texas, follow this link.
Other popular stories on KCENTV.com:
13 Reasons Why: The purpose behind each fold of the American flag
When chance meets unwavering faith: Central Texas teen with rare disease crosses paths with surgeon who can treat it
Leading Ladies: Belton ISD superintendent educates with more than 20 years under her belt