State Fair of Texas parade
Watch the annual State Fair of Texas parade, as it kicks off the opening weekend:




THE BASICS: WHAT TIME DOES THE STATE FAIR OPEN, AND MORE
Let's face it. Last year wasn't great. The 2021 theme -- 'Howdy, Folks!' -- reflects the return from virtual gatherings to connecting in person again. It'll be like Zoom but with no mute button.
The State Fair of Texas will open on Friday, Sept. 24, and will run through Sunday, Oct. 17.
Gates open at 9 a.m. daily. Exhibit buildings, exhibits, and outdoor concessions will be open from:
10 a.m. - 9 p.m. Sundays through Thursdays.
10 a.m. - 10 p.m. Fridays and Saturdays.
Museum and midway hours vary.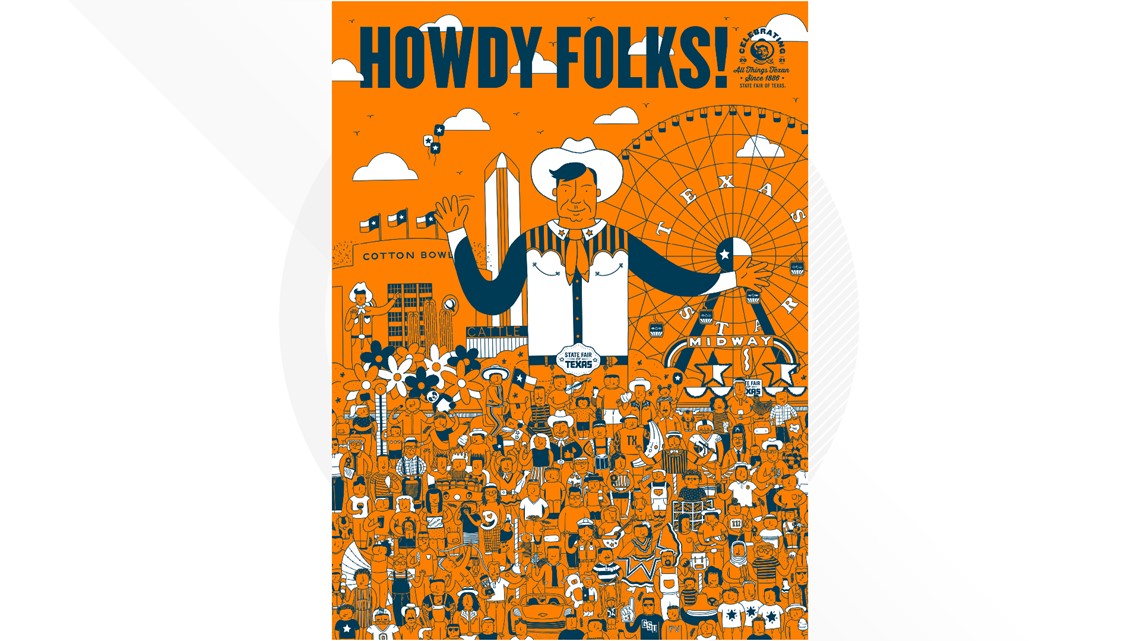 WHERE IS THE STATE FAIR AND HOW TO GET THERE
Sure, you could enter "Fair Park" into your phone or GPS and follow the directions but getting into (and out of) the fair is easiest by train.
If you want to drive, that's cool too. Check out the link to the parking map:
Heads up, parking at the fair will cost you $20
HOW TO GET TICKETS AT THE STATE FAIR
Daily tickets run from $15 - $24 depending on the level you want. If you're planning to attend the fair more than once, you may be interested in a season pass. Those can be had for $50 per person.
If saving money is your thing, there are multiple ways to score discounts on tickets for the fair. Be on the lookout for:
Dr. Pepper Value Days every Tuesday and Thursday
North Texas Food Bank: Feed the Need - bring 5 canned food items and receive admission for $5.
Everyone pays the child price after 5 p.m.
There are tons of other ways to get discounts on State Fair tickets. For complete details on how to get your tickets and all the ways you can save on them, click the links below.
WHAT TO SEE AT THE STATE FAIR
The State Fair of Texas is more than just the food! There are tons of things to see and do while you munch on your favorite fair food.
Football at the Cotton Bowl Stadium
The State Fair Classic on Sept. 25 will feature the annual matchup between Grambling State University and Prairie View A&M.
On Oct. 9, the Red River Showdown will take place between the University of Texas Longhorns and the Oklahoma Sooners.
The rodeo is coming back to the State Fair of Texas and is free with your fair admission. It will take place on weekend evenings.
Cowboys of Color Rodeo, Sept. 24-25
Mexican Rodeo Celebration, Sept. 26
State Fair of Texas Youth Rodeo, Sept. 29
United Professional Rodeo Association Texas Finals, Sept. 30 to Oct. 2
Bull Buckin' Weekend, Oct. 8-9
State Fair of Texas Ranch Rodeo, Oct. 15-16
Other attractions and events
The Country Roundup will feature animatronic and manual puppetry on the midway; Fiestas de Marionetas will have daily performances at the McDonald's Amphitheater
A brand-new ride: Moonraker
An exhibit celebrating the fair's 135-year history in the Hall of State
A Dia de los Muertos experience at Mundo Latino
Nightly fireworks displays and performances at the reflecting pool
Nightly Starlight Parade featuring floats, life-size puppets and performers
Rides are always a popular attraction at the State Fair of Texas. Take a 360-degree ride up the Top O' Texas Tower (try it with a Google Cardboard compatible viewer for the best experience.)
STATE FAIR MUSIC LINEUP
The 2021 fair will include a lineup of free live music, including 77 different artists and groups ranging across a variety of genres.
Texas-born Clay Walker will kick off the concert series on Sept. 24 at 8:30 p.m. The following day, as part of the State Fair Classic football game, Dru Hill will perform at 2 p.m. and Black Pumas from Austin will perform at 8:30 p.m.
La Energia Nortena will round out opening weekend Sunday, Sept. 26 at 8:30 p.m. A full list of performances is below:
Chevy House Party, 12:00 p.m.
Dru Hill, 2:00 p.m.
Black Pumas, 8:30 p.m.
Conjunto DIFERENTES De Zacatecas, 2:00; 4:00; 6:00 p.m.
La Energia Norteña, 8:30 p.m.
Rob Roy Parnell, 4:00; 5:45; 8:30 p.m.
Rathmore, 4:00; 5:45; 8:30 p.m.
The 40 Acre Mule, 4:00; 5:45; 8:30 p.m.
Little Joe y La Familia, 5:30; 8:30 p.m.
Summer Dean, 5:30 p.m.
Shinyribs, 8:30 p.m.
Chevy House Party, 12:00 p.m.
Eleven Hundred Springs, 2:00; 4:00; 6:00 p.m.
Kevin Fowler, 8:30 p.m.
Chevy House Party, 12 p.m.
Clay Melton, 2 p.m.; 4 p.m.; 6 p.m.
Grand Funk Railroad, 8:30 p.m.
Retrophonics, 4 p.m.; 5:45; 8:30 p.m.
The Imaginaries, 4 p.m.; 5:45; 8:30 p.m.
Squeezebox Bandits, 4 p.m.; 5:45; 8:30 p.m.
Brave Combo, 5:30; 8:30 p.m.
Mike and the Moonpies, 5:30; 8:30 p.m.
Hannah Kirby, 2:30 p.m.; other showtimes pending game time
Jack Ingram, 6 p.m.
Bill Engvall, 8:20 p.m.
Chevy House Party, 12:00 p.m.
No Rehearsal, 2:00; 4:00; 6:00 p.m.
Sugar Ray, 8:30 p.m.
Trevor Douglas, 12 p.m.; 1:30 p.m.
Le Freak, 3 p.m.; 5:30 p.m.
Ron Lawrence and Sazerac Jazz, 4 p.m.; 5:45; 8:30 p.m.
U.S. Marine Jazz Ensemble, 4 p.m.; 5:45; 8:30 p.m.
Sgt. Pepper's Lonely Bluegrass Band, 5:30; 8:30 p.m.
Kraig Parker, 5:30; 8:30 p.m.
Chevy House Party, 12 p.m.
The Peterson Brothers, 2 p.m.; 4 p.m.; 6 p.m.
Charley Crockett, 8:30 p.m.
The Powell Brothers, 12:00; 1:30 p.m.
The Last Bandoleros, 3 p.m.
WHAT TO EAT AT THE STATE FAIR
Your first stop when you get to the fair should always be Fletcher's Corny Dogs. After that you can take your obligatory selfie with Big Tex and go on your merry way, trying all the new fried food you can manage without falling over.
There are literally hundreds of amazing foods to discover at the State Fair. However, if you have never been, or just want a good starting point, check out all the Big Tex Choice Award winners and finalists.
The 2021 Big Tex Choice Awards finalists were announced several weeks ago, with the 10 top finishers in the State Fair of Texas' annual competition for sugary, deep-fried goodness. And now the time has come to see who won.
Three of the 10 finalists will be crowned winners for "Best Taste - Savory," "Best Taste - Sweet" and "Most Creative."
Best taste - savory winner and most creative winner: Deep Fried Seafood Gumbo Balls - Gourmet Royale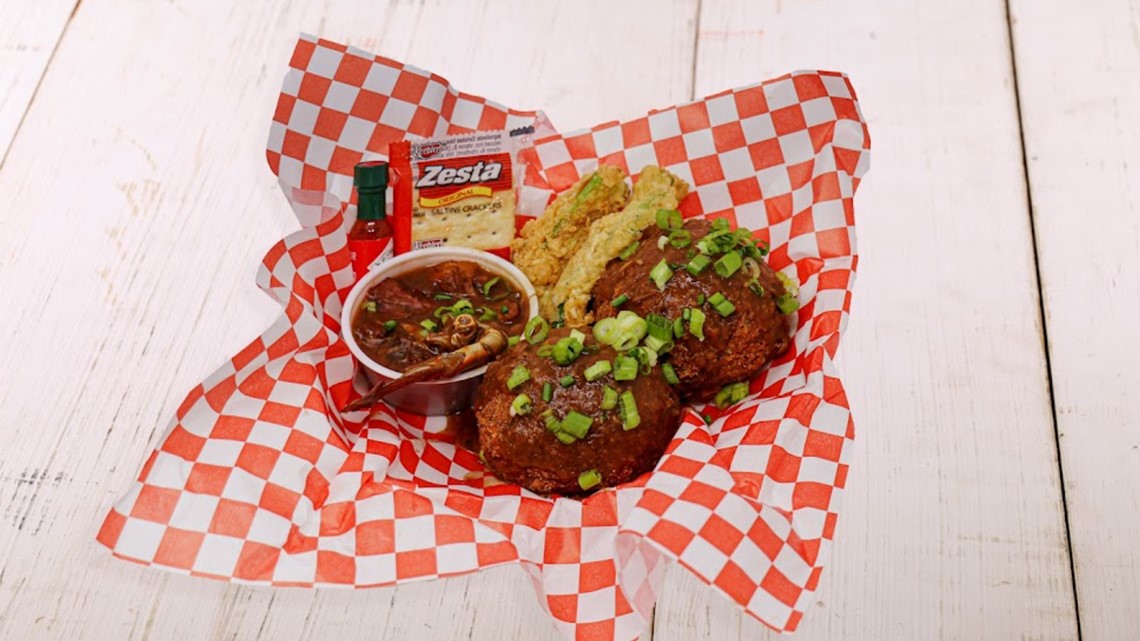 Best taste - sweet winner: The Armadillo - James Barrera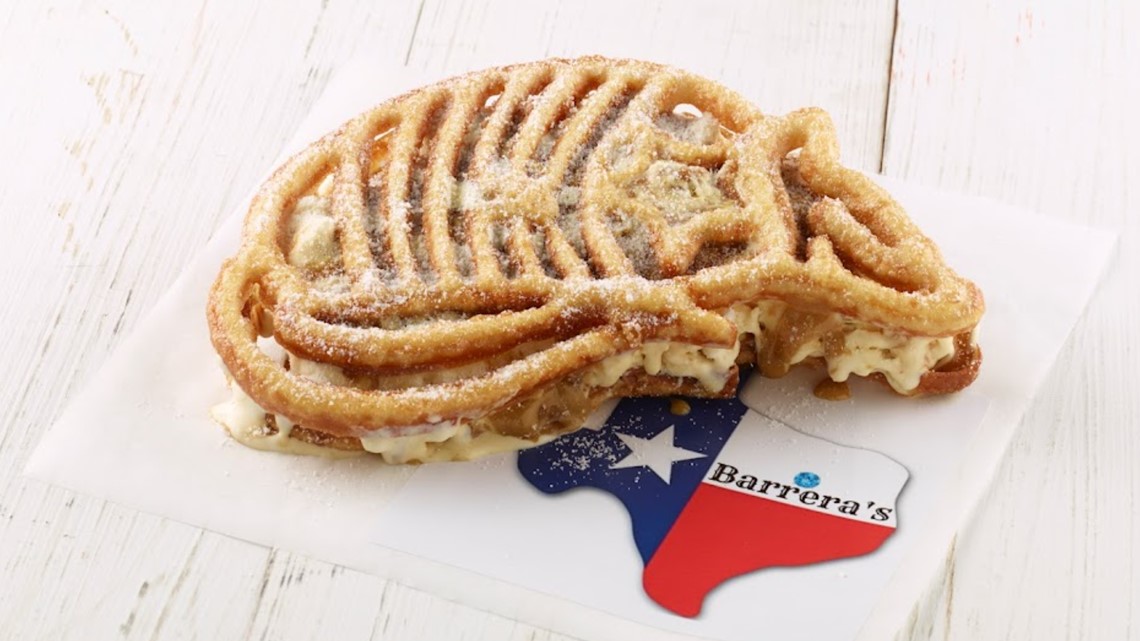 If you want full details on all the food and drink at the fair click the link below.