KILLEEN, Texas — Two months ago, the Friends in Crisis homeless shelter in Killeen closed because of a lack of funding. Now, the people who relied on the shelter's services are back on the streets.
Hope isn't lost though: With the help of community leaders and support from one another, a tent city formed.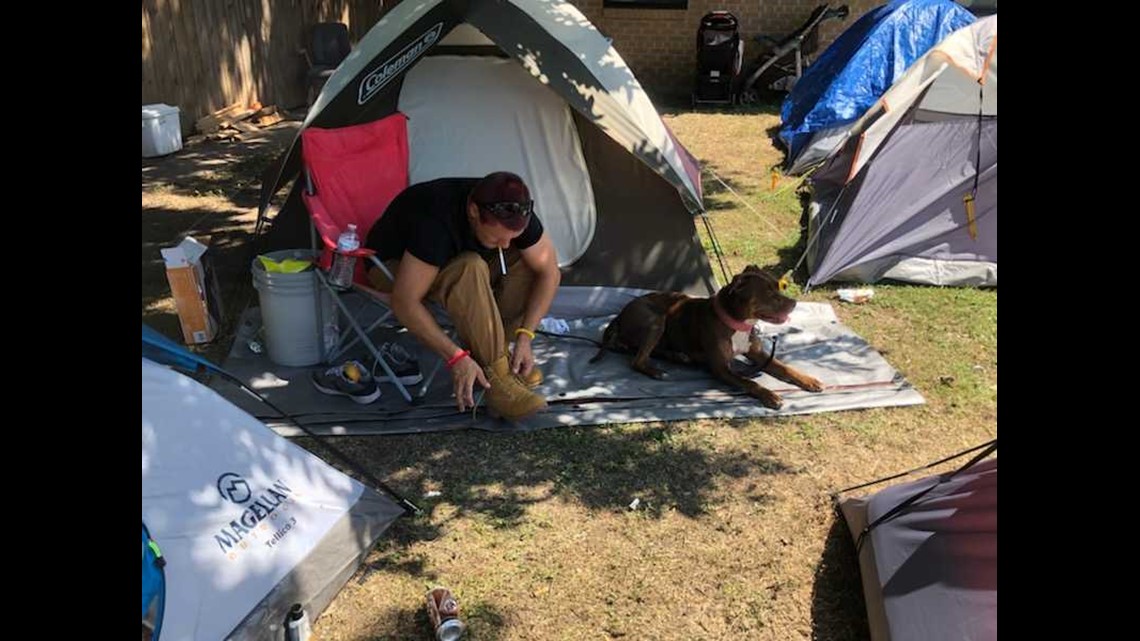 "This is what I'm sleeping,' Allen Kimble said. "I need to actually pull everything out. I knew what spot would be the best."
Kimble, 27, has lived on the streets of Killeen for the past six years. He found a home at the shelter a few months ago, but after it shut down unexpectedly, he was forced back out on the streets alongside dozens of others.
He said life is hard, but he's getting by.
"It's a big change because at first, I had gotten used to being able to go inside and get fresh air, being able to cool off and have an actual bed to sleep on to ending up having to sleep on a concrete floor," he said.
The Texas heat doesn't make the situation any easier. The community is easing some of the stress these homeless people have though.
"Lack of funding left the shelter doors closed, and with nowhere else to go, folks here set up this tent city to try and get by," Branding said.
One person donated tents to allow the homeless people to set up camp out in front of the shelter. Another donated food, clothing and the supplies needed for a makeshift private shower.
Branding said it's a cause that's close to his heart.
"I was homeless too about five years ago, so it's a situation I'm familiar with," he said. "And not having help and being in this heat, I mean it will make you do what you need to do to survive, and I didn't want people to do that."
The tent city has allowed the folks there to build their owns sense of community. They watch each others' pets, share about potential job opportunities and keep each other uplifted, something Allen said he appreciates during these trying times.
"There's a few people who have actually opened up their hearts and done whatever they can do to help out, and that's big," he said.
Branding said he hopes it's just the start of even more help to come.
"I just want to see how can we make the situation better. That's my main concern," he said.
There is no word yet on when Friends in Crisis will reopen, but the shelter is actively trying to raise the funds to do so. You can donate to their GoFundMe here.
Other stories on KCENTV.com: