WACO, Texas — Your favorite photo of all time may encapsulate a specific moment from sports, history or the arts.
"The Kiss" taken in Times Square in New York City on V-J Day in 1945, has a special place in evening anchor Kris Radcliffe's heart.
"This photograph means so much to me because of how Americana it is, and my wife knows that and gave this to me as an anniversary present," Radcliffe said. "So you could imagine my excitement when I found out that there was someone in Central Texas that had a tie to this famous photograph!"
To find the Central Texas connection in "The Kiss," you have to take a closer look at the background.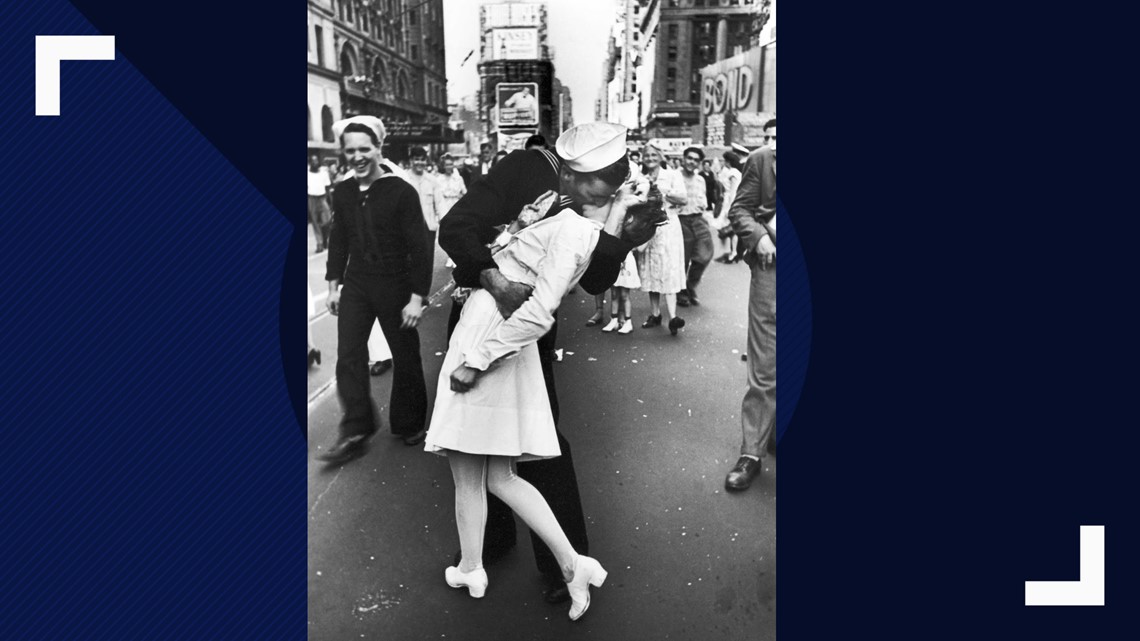 Suits was part of the historic moment for 35 years without even knowing it. Finally, In 1980, Life Magazine ran a story about the milestone for the moment. That's when a friend of the Suits' family had to do a double take.
"One of his coworkers saw the picture," his widow, Shirley Suits, said. "Of course, the next day he goes into to the office and says, 'Frank, did you know you were in LIFE Magazine?'"
Alfred Eisentaedt, the famous photographer who captured "The Kiss," died in 1995. Before he passed, he described why one out of the four photos he took over a 3-second period on V-J Day was so perfect.
"Only one is right, on account of the balance," Eisentaedt told Life Magazine. "In the others, the emphasis is wrong. The sailor on the left side is either too small or too tall."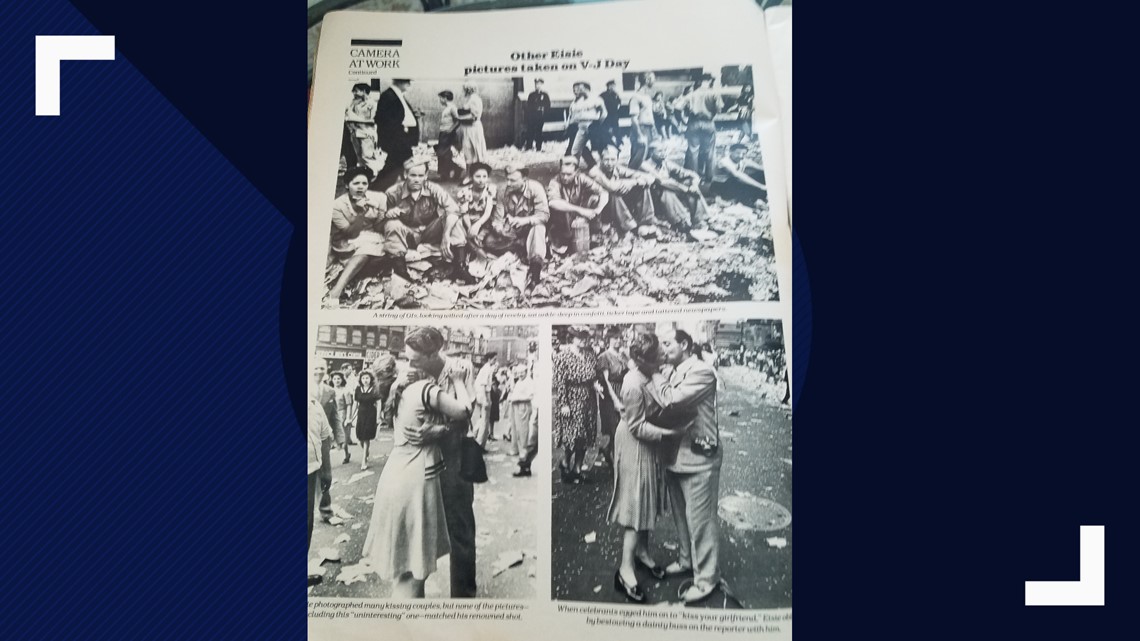 Just look at that smile on Frank.
Shirley Suits lived in Waco near her daughter, Tracy, and grandchildren. The Suits were married for 42 years before he passed. The couple called Florida and California home.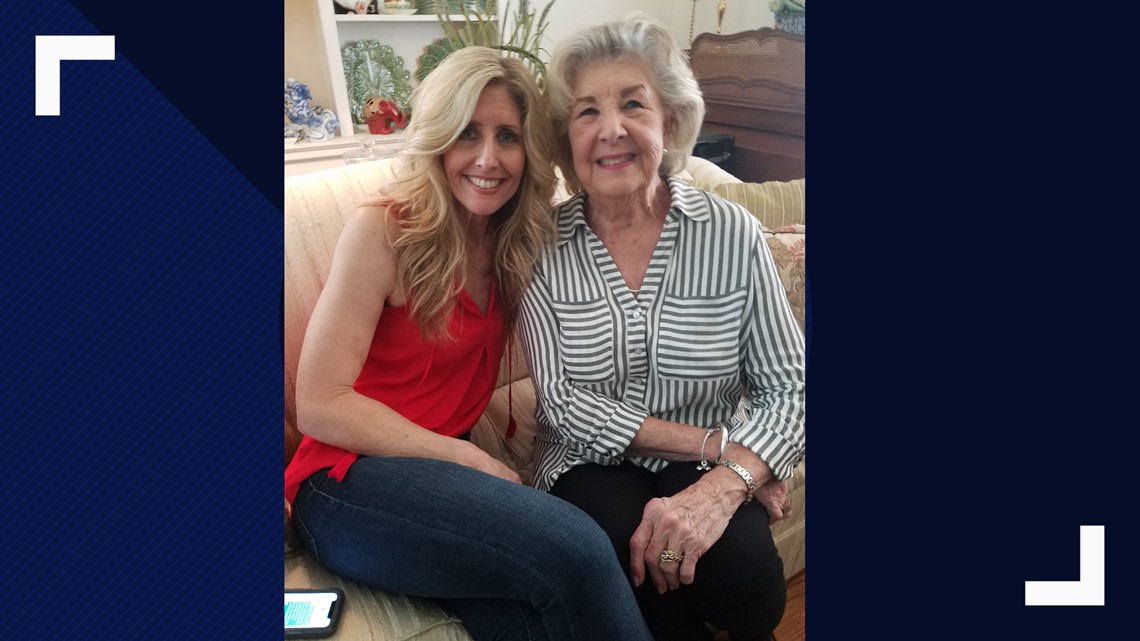 Hollywood and pop culture have extended Frank's 15 minutes of fame to a full box office flick. "The Kiss" has been featured in "The Simpsons," "Night at the Museum: Battle of the Smithsonian" and many other shows and movies.
This Memorial Day, the stars of "The Kiss," Greta Zimmer Friedman and George Mendonsa will be remembered. Friedman died in August 2016, while Mendonsa died in February, just two days shy of his 96th birthday.
Frank Suits, who died in 2009, will also be remembered.
"He was wonderful," Shirley Suits said. "I wish he was still here."
Frank was a man who never wanted or needed his own fanfare. He still had his own date with destiny: Stage left in what was arguably the most joyous day in American history.
PHOTOS: The story behind 'The Kiss'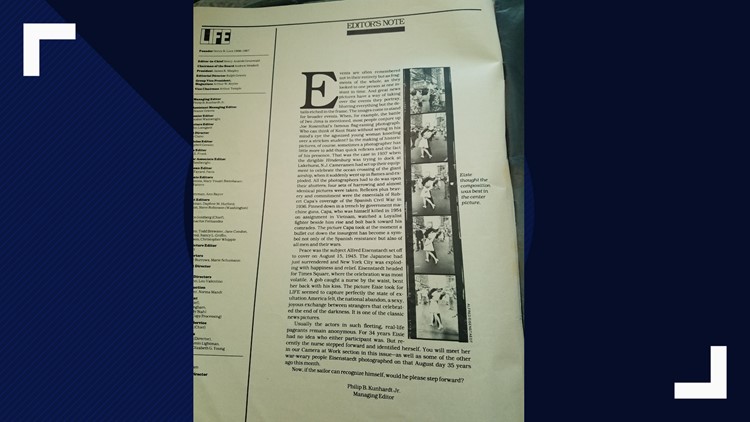 A federal government employee took a photo of the same moment Eisenstaedt captured from another angle, and it's available in the public domain via the U.S. Navy. Although the angle may be less interesting than Eisenstaedt's photo, Frank's hands and legs can be seen right behind the kiss. Additionally, this angle shows a chemical bank and trust building, with Walgreens Pharmacy signage on a building's facade visible in the backdrop of Times Square.
Other popular stories on KCENTV.com: