5:25 p.m. Interim HISD Superintendent Grenita Lathan and HISD Trustee Elizabeth Santos introduced a resolution to honor Vanessa.
"Therefore, be it resolved that we Dr. Grenita Lathan and the HISD Board of Education express heartfelt sympathy to Vanessa Guillen's family and friends. We share in your grief and pray you will find peace and comfort in acknowledging her great love for you and know she will inspire and impact the lives of many for years to come"
They plan to introduce another resolution naming Sept. 20, Vanessa's birthday, as Vanessa Guillen Day.
5:14 p.m. After asking the mourners to hold hands in a moment of silence, Lupe reminded them to have faith -- even in the darkest of times.
4:30 p.m. An artist painted Vanessa's portrait as a woman sang a beautiful rendition of Ave Maria in Spanish.
Vanessa's mother Gloria joined Lupe on the stage and watched the painting take shape.
4:28 p.m. Rep. Sylvia Garcia attended the memorial. She has been working with the family to bring about changes in the military through the #IAmVanessaGuillen bill.
Rep. Sheila Jackson Lee also stopped by to offer a few words of comfort to the family.
4:20 p.m. Chavez classmate Jocelyn Sierra said she saw Vanessa a week before her death. They ate pizza and watched "GI Jane."
Jocelyn said she still has the letters Vanessa sent her from boot camp.
"To some she was a role model, someone who people admired for her hard work and dedication, Jocelyn said. "To others, she was a friend who they could count on for anything ... To me she was my soulmate."
4:15 p.m. It was a heartbreaking moment when Vanessa's grandmother from Mexico spoke of her beloved granddaughter. She choked back sobs as she talked about how much she looked forward to seeing Vanessa on her yearly trips to Texas.
After she let the stage in tears, she was comforted by Houston Police Chief Art Acevedo.
3:26 p.m. The mourners included fellow soldiers from Fort Hood and former classmates from Chavez High School.
Soccer teammate and friend Veronica Garcia said she just wanted to be there to support Vanessa's family.
"Like I grabbed her hand and just, I didn't really say much because I couldn't but she knows that we're all here for her," Garcia said. "Just walking past everybody and walking past her there, it was, it was hard."
3:02 p.m. Six girls wearing white dresses and veils said the rosary.
2:49 p.m. Vanessa's sister Lupe said she always admired her because "she was a fighter. She never gave up. She always chased her dreams." Lupe said she feels Vanessa's spirit and knows she is so proud.
She said she recently had a dream that God handed Vanessa back to her and said "She's all yours."
Lupe remembered their silly arguments and their serious conversations about how much Vanessa wanted a baby. She said her older sister loved to eat and had a major sweet tooth.
"Trust me she will always have a cake, a Snickers or Hershey ice cream."
2:20 p.m. A mournful mariachi band took the stage as people continued to file by to offer respects. Many had waited in line outside in the heat and humidity, saying it was the least they could do for the Army specialist who served her country.
1:20 p.m. As two women sang traditional Spanish songs, mourners passed by the casket to pause and pay their respects. Many saluted the young soldier who joined the Army when she was 18 years old.
Some carried flowers. One woman had a giant teddy bear.
One of the most moving moments came when an elderly man with a walker and dressed in a military uniform stopped to say a few words to family members.
"Today is not about justice, it's not political, it's not about the bill. Today we are here to honor, remember, respect Vanessa Guillen and her life, her beautiful soul.
"Vanessa Guillen is the definition of beauty, strength, warrior," Lupe said.
She said Vanessa talks to her and she's very happy to be by the side of God and the Virgin Mary.
1:00 p.m. Family and friends listened to prayers and tributes to Vanessa in English and Spanish. The speaker thanked everyone for their continued support, especially those who have stood by them since the beginning.
12:50 p.m. Mourners wearing masks watched a slideshow full of photos of Vanessa throughout her 20 years.
Outside, Hundreds of people waited patiently for their turn to go inside for the viewing.
12:30 p.m. Vanessa's mother and sister held tightly to each other as her casket was carried inside the Chavez High School auditorium. It is surrounded by photos of the young Houston native, beautiful floral arrangements and brightly-colored green and gold balloons.
12:15 p.m. The caisson stopped at the Chavez High School sports field, where Vanessa and her friends spent countless hours playing soccer. She graduated from Chavez in 2018.
12:05 p.m. Family and friends are gathering inside the Chavez High School auditorium for the viewing and memorial service.
11:50 a.m. As the caisson drawn by two white horses neared Chavez High School, you could hear Taps playing in the background. Vanessa's younger sister Lupe rode up front, alongside the driver.
11:40 a.m. Vanessa's casket was transferred to a horse-drawn caisson covered in white flowers that will take her to Chavez High School for a public viewing, memorial service and rosary.
Vintage Horse Carriage Rides owner Terrence Reed is transporting Vanessa in the same carriage that carried George Floyd to his final resting place.
"I offered them several carriages," said Reed. "They said they wanted the one George Floyd rode in."
Vanessa's family followed on foot behind the casket.
The owner of the company said he created the casket after reaching out to Guillen's family to learn more about her.
It includes the American flag to represent her patriotism and the Mexican flag for her heritage. A soccer ball symbolizes Vanessa's love of sports and the Virgin Mary represents her faith, owner Troy Ganem told KHOU 11.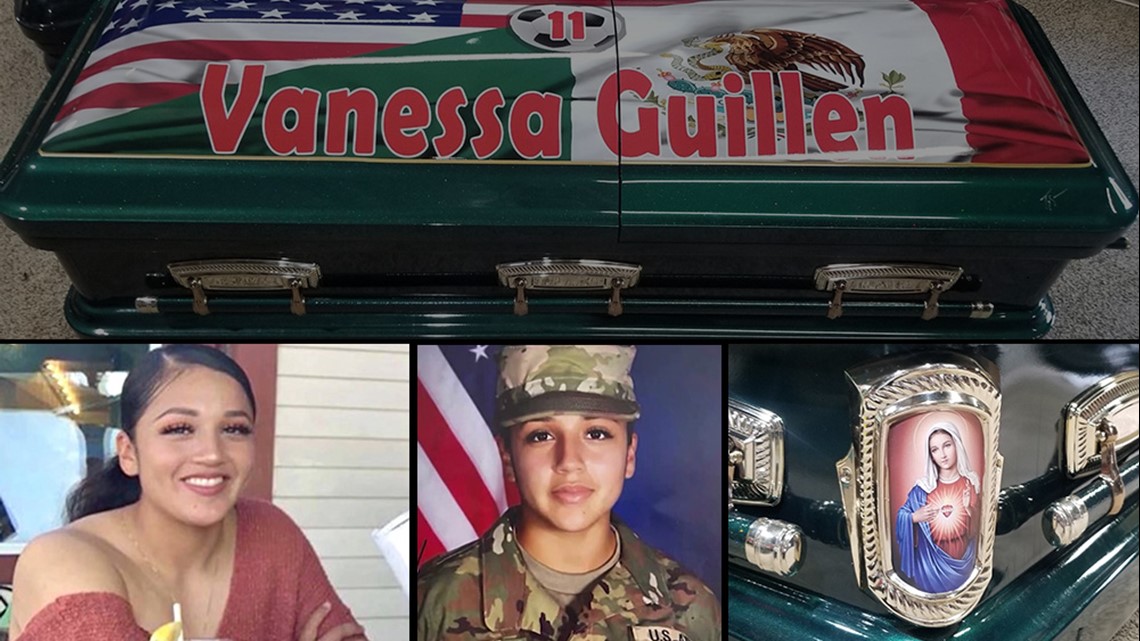 Custom-made casket for Vanessa Guillen

11:05 a.m. A solemn procession is underway in advance of the memorial service for Vanessa Guillen.
The public memorial will impact traffic especially near Old Galveston Rd (State Hwy 3) & Howard Dr, Houston police said. Expect partial lane closures on Howard Dr.
Trae the Truth donating $30,0000 to family
Trae Tha Truth is taking one big burden off the family of Vanessa Guillen The Houston rapper has donated $30,000 to her family.
He understands what it takes to fight for a cause.
"They're not going to be able to sit at work and be able to fight for her and travel or do things that need to be done," he said.
Vanessa Guillen's story
3rd Cavalry Regiment Commander COL Ralph Overland assigned a team to investigate the sexual harassment claim on June 18 but did not find any evidence to support the claim. Overland said the investigation was ongoing.