A limited U.S. airstrike against Syria — similar to a year ago — is unlikely to hurt President Bashar Assad's growing strength in his country or change the course of the civil war, analysts said Monday.
President Trump, who is weighing his options after reports of a horrific chemical weapons attack in Syria over the weekend, vowed to make a decision on a course of action in 24 to 48 hours.
Trump is faced again with the choice of conducting a limited strike that might not even deter Assad from future chemical attacks or a wider response that risks drawing the U.S. deeper into a global conflict.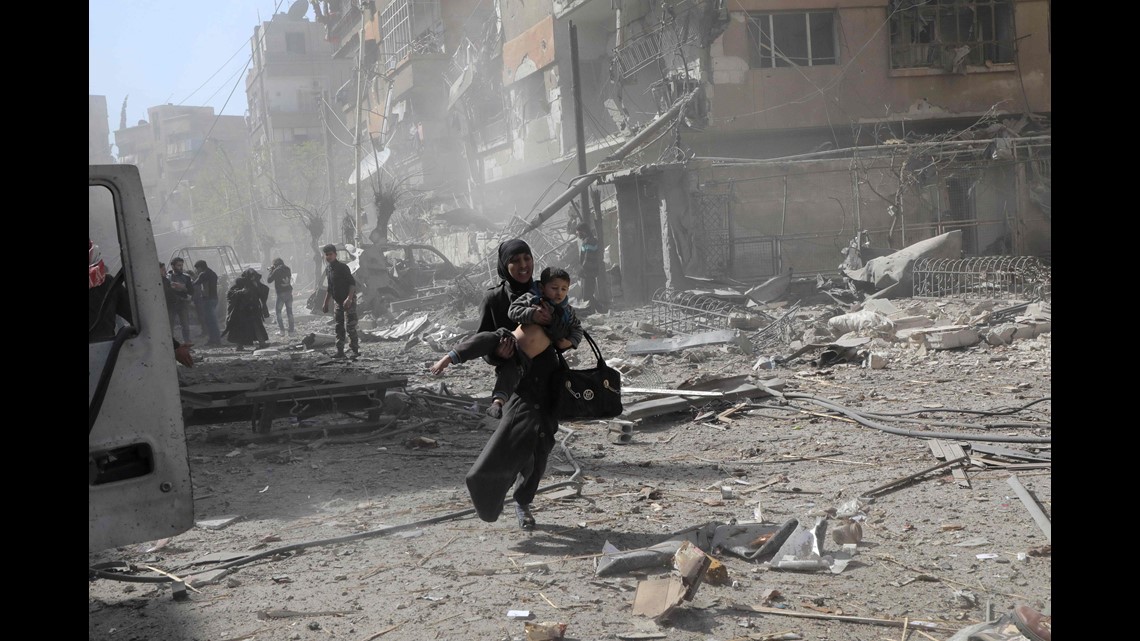 "The likeliest option is exactly what we saw before — an airstrike that the president puts forward as a so-called tough response but doesn't do very much to degrade Assad's forces or to punish him for his ongoing use of chemical weapons," said Jonah Blank, an analyst at RAND Corp.
"This is more about his use of chemical weapons than it is the outcome of the war," said Andrew Tabler, an analyst at the Washington Institute for Near East Policy.
A year ago, Trump ordered a strike on the regime's military forces after a similar chemical attack. But that strike didn't stop Assad from expanding control over the country — largely because most of the regime's military might comes from Russia and Iran. Russia has been providing air power and other support; Iran supplies the ground forces.
The strike was carefully limited — 59 U.S. Tomahawk cruise missiles that damaged about 20 Syrian aircraft or 20% of its operational warplanes. And the U.S. warned Russia of the attack in advance.
Assad's military allegedly used chemical weapons this weekend to clear a rebel-held territory in Douma, just outside the capital of Damascus. Chilling videos and photos of bodies of children killed or injured by the attack spread over the Internet this weekend. At least 40 people were believed to have died; Syria has denied involvement.
The assault was part of an Assad regime offensive to clear remaining pockets of resistance around Damascus in the war, now in its eighth year. Regime forces and their Iranian and Russian allies have made steady progress over the past couple years in recapturing territory held by opposition groups.
The chemical attack evidently broke the will of the Islamist group holed up in Douma, and the militants agreed to a deal to leave the area. "The evacuations are still ongoing in Douma," said Jennifer Cafarella, an analyst at the Institute for the Study of War.
Cafarella said the regime was in negotiations with the militants in the hopes of avoiding a bloody, urban fight. The use of chemicals was a desperate move to force the militants to concede after talks had broken down, she said.
On Monday, Russia blamed Israel for a missile attack on an air base in central Syria that activists said killed at least 14 people. Russia's claim came hours after the Pentagon denied Syrian media reports that the U.S. conducted the airstrikes in Syria.
If the U.S. does strike, it's possible that Trump will order a stronger response, such as a sustained air campaign. Trump said all options are being considered. "Nothing is off the table," he said.
"We'll be making some major decisions over the next 24 to 48 hours," Trump said Monday during a Cabinet meeting a day after saying there would be "a big price to pay" by Syria and Assad. "This is about humanity ... and it can't be allowed to happen."
The Trump administration has also asked the United Nations Security Council to authorize an independent inquiry into the attack.
Trump's threat to take action also comes less than two weeks after saying he wanted to withdraw U.S. forces from Syria.
"I want to get out," Trump said. "I want to bring our troops back home. I want to start rebuilding our nation."
The White House later qualified his remarks to say there was no timetable for withdrawal from Syria. The U.S. military has deployed about 2,000 troops to advise and support local militias battling the Islamic State.
On Monday, Trump seemed to be leaning toward wading in deeper, suggesting the responsibility for the attack may go beyond the Assad regime.
"If it's Russia, if it's Syria, if it's Iran, if it's all of them together, we'll figure it out and we'll know the answers quite soon," Trump said.
"I see nothing to indicate that President Trump has constrained the possible military responses," Cafarella said.