UVALDE, Texas — Uvalde CISD is going ahead with plans for a new campus to replace Robb Elementary school nearly one year after the school shooting.
A gunman entered a Robb Elementary classroom and killed 19 students and two teachers on May 24, 2022. The school closed after the shooting and the plan is to demolish the building.
The Moving Forward Foundation is a nonprofit organization in charge of the plans for the new school. The group released renderings Tuesday night at a community meeting.
The new images show the building will be twice as big as Robb Elementary and will be built adjacent to Dalton Elementary.
The new state-of-the-art facility will house grades 2-4 and a total of 800 students. Three drivers behind the design process were brain research, emergency management and trauma-informed care.
Scroll through some of the photo renderings of the new school in the photo gallery below:
The new school will also pay tribute to the victims of the Robb Elementary shooting through a tree sculpture. The two large branches represent the two teachers who lost their lives and the 19 smaller branches represent the children.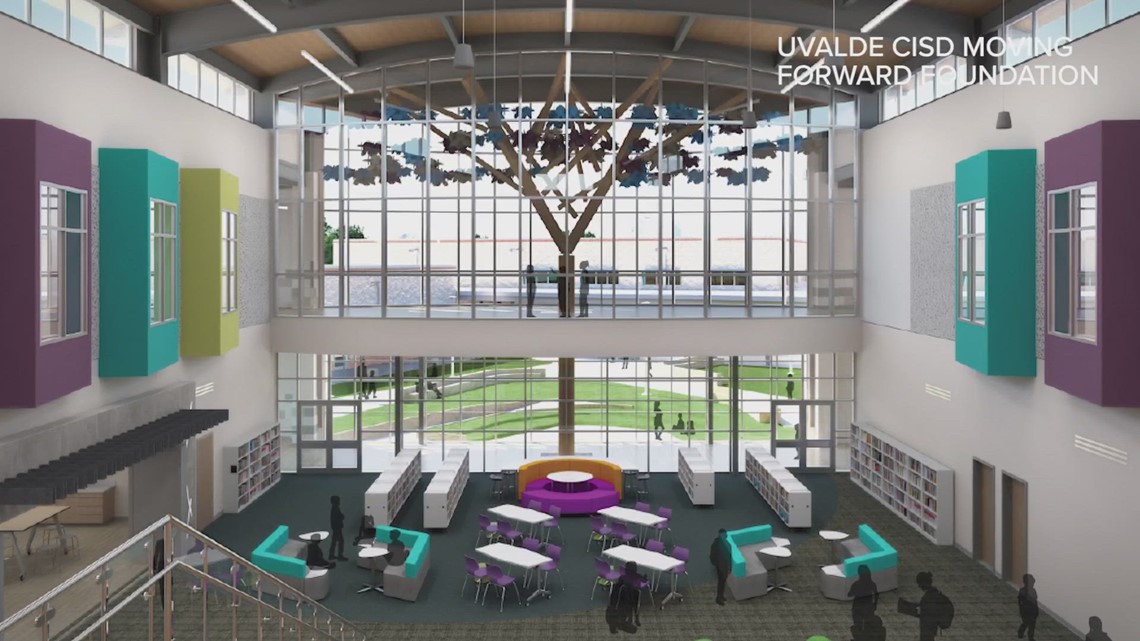 The nonprofit is expected to present the renderings to the UCISD board for final approval next week. If approved, construction is set to begin in August of this year.
This comes as the district announced Uvalde CISD staff and students will be off from May 23 to May 25, during the one-year anniversary of the Robb Elementary.
Interim superintendent Gary Patterson formally announced the closures in a Monday memo to the district population after trustees approved the changes at a February meeting. High school graduation is scheduled for Friday, May 26.