A video showing a gunman shooting at houses while driving down a neighborhood street has gone viral, racking up millions of views.
In the video, a hand can be seen holding a gun out of a car window. Shots are then fired at houses as the car drives down the street.
The video was posted online by the "Get Your Kids Nola" Instagram account, but has since been deleted. NOLA is a common abbreviation for New Orleans, Louisiana. The video was also shared on Reddit and Twitter, with claims it shows a gunman shooting at houses in New Orleans.
THE QUESTION
Does this video show a gunman shooting at houses in New Orleans?
THE SOURCES
THE ANSWER
The viral video does not show a gunman shooting at houses in New Orleans. The video is real, but it is from Fort Worth, Texas.
WHAT WE FOUND
This viral video is real but it wasn't recorded in New Orleans, as the posts claim. It was actually taken in Fort Worth, Texas, in the Fossil Park neighborhood.
We confirmed the location using Google Maps. The same house, same trash can and same tree-lined street seen in the video match the Texas neighborhood.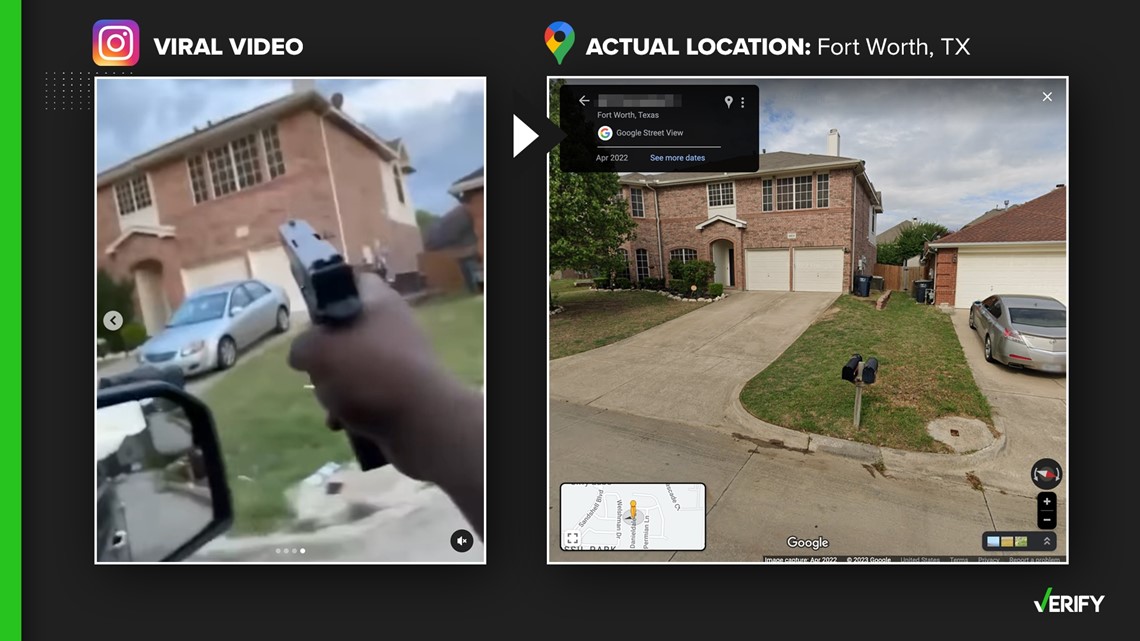 In an email to VERIFY, Fort Worth Police Public Information Officer Buddy Calzada confirmed the location of the video is in Fort Worth, but he said they have not received any official police reports of a drive-by shooting or shots fired at that location.
"It is quite possible this incident was not reported to police," Calzada said.
He said the video was forwarded to detectives just in case someone does see the video and wants to come forward to file a report.
So how did this video get to the Instagram page of an account that posts content about New Orleans?
An administrator for the "Get Your Kids NOLA" account told VERIFY partner station 4WWL in New Orleans that it was sent directly to them and they posted it.
The video has since been deleted from the "Get Your Kids NOLA" Instagram page.