ST. PETERSBURG, Fla. — 2020 is throwing plenty our way -- including an asteroid the size of a car.
NASA says 2018 VP1 will zoom past Earth on Nov. 2, one day before Americans vote for in the 2020 general election. Thankfully, scientists say the rock is unlikely to enter our atmosphere, and even if it did, it's too small to do much damage.
Still, that's not stopping a Florida company from being prepared. The Saint Lawrence Agency in Altamonte Springs is selling asteroid insurance, warning people "Don't Get Hit...Without It!"
$25 will give you $10 million of coverage should an asteroid cause some disaster down here on Earth. The website says anyone with a sense of humor qualifies. You can download a digital copy of your policy as soon as you buy it, but the agency will also send a membership card in the mail.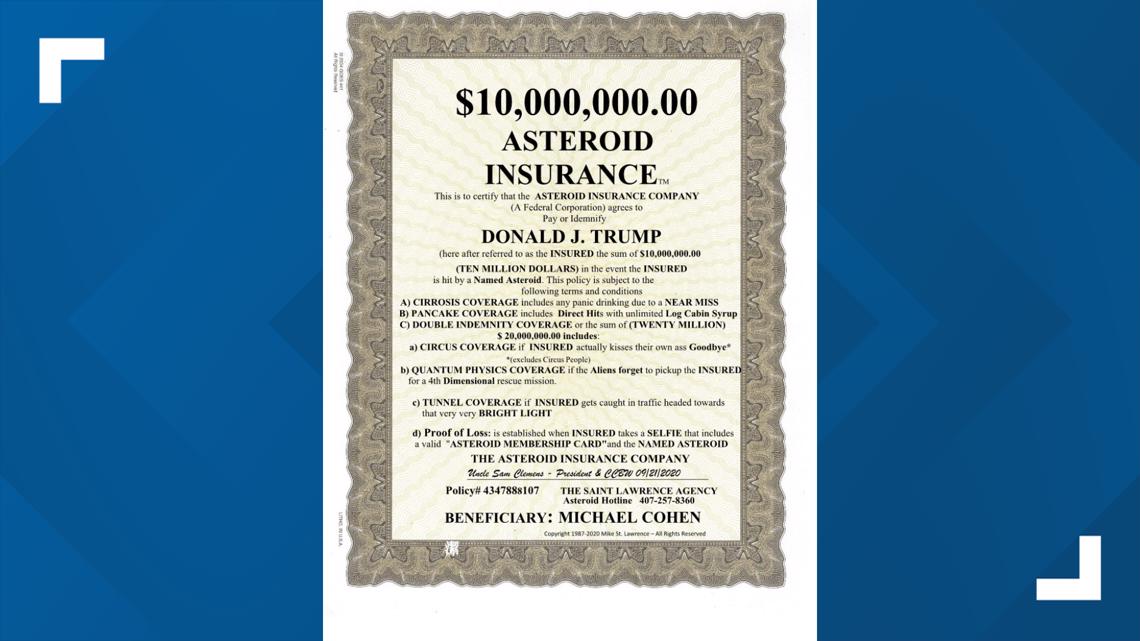 The Saint Lawrence Agency website says it's been offering asteroid insurance worldwide since 1991 "except for a time when we were investigated in Texas." Back in 1998, the company's joke insurance policy was taken seriously by state regulators who opened an investigation into the agency's ability to issue insurance in Texas.
The Saint Lawrence Agency has a small disclaimer on it's website: "The First Asteroid Insurance Company is not regulated by The Texas Department of Insurance because it is Satire."
You can contact The Saint Lawrence Agency at the information below:
Altamonte Springs, FL 32701
What other people are reading right now: