AUSTIN, Texas — It is that time of the year when dust from the Sahara Desert in Africa makes the 5,000-mile trek across the Atlantic Ocean by the trade winds.
This happens when dust storms take shape over the desert and dust is then elevated. This creates the Saharan Air Layer, or SAL, which is a 2 to 2.5-mile thick layer of air about one mile above the surface. The trade winds then pick up that dust and transport it towards North America. The warm, dry air is associated with a stable atmosphere and lower tropical activity.
This Saharan dust has been causing reduced air quality and hazy conditions over the past several days here in Central Texas.
The concentration of Saharan dust peaked on Saturday, causing the air quality to drop to the "unhealthy" level in Austin. Fortunately, air quality has improved as of Sunday morning as the dust is now less concentrated.
The air quality in Austin is expected to remain in the "moderate" level on Sunday. This means that unusually sensitive people should consider reducing prolonged or heavy exertion outdoors.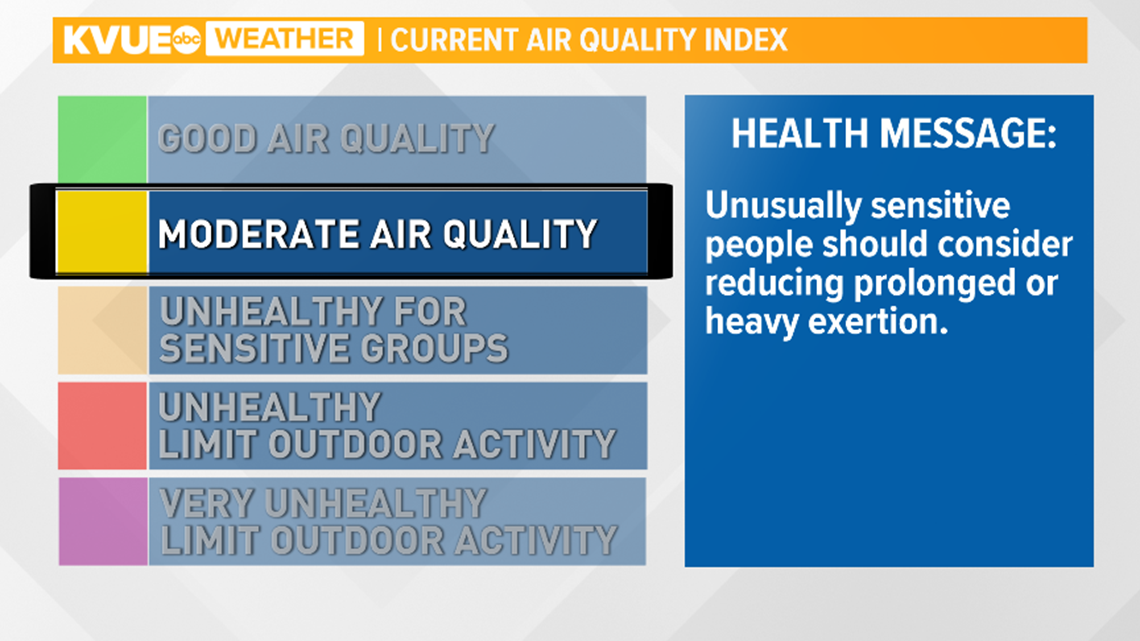 In addition to reduced air quality, Saharan dust can also result in extremely vivid sunrise and sunsets.
These have been seen across Central Texas over the past several days, including the Thursday evening sunset over Downtown Austin.
PHOTOS: Saharan Dust brings hazy sunsets to Central Texas
The haziness from Saharan dust was very apparent Friday evening from the KVUE sky cam network, as air quality dropped significantly around 5:45 p.m.
When there is consistent dust in our air, air quality decreases. Air quality was "unhealthy" on Saturday. That meant it was unhealthy for sensitive groups to spend prolonged periods of time outdoors. People with respiratory issues such as asthma or people with heart and lung disease were especially vulnerable. Some sensitive to dust may have even experienced allergy-like symptoms such as itchy throat, nose and eyes. Some may not have been impacted at all!
Air quality is expected to remain in the "moderate" level through the day on Monday. However, some of the latest computer forecasts are showing the potential for more dust to move in around the end of the week.
The KVUE Storm Team will continue to closely monitor the forecast.