MEXIA, Texas — Nobody was injured after reports of a "loud bang" was heard from a bathroom at a Mexia ISD campus late Monday morning, according to the school district.
In a news release before 5 p.m., Mexia ISD said after the reported "bang," school staff and officials immediately reacted and placed Mexia High School on lockdown, as well as called local law enforcement.
Minutes after police arrived at the school, officers were able to detain a person of interest, Mexia ISD said. Officers continued to sweep through the school to make sure everyone was safe and there were no other threats, the district added.
While this was happening, Mexia ISD also placed its other campuses and buildings on lockdowns, which has since been lifted.
Mexia ISD said the high school will remain closed on Tuesday to allow law enforcement to continue their investigation.
City Manager Eric Garretty, who was serving as the spokesperson for Mexia ISD, said did not say if the person of interest was a student, but said they aren't a suspect at this time.
Garretty added that authorities found bullet holes in a boys bathroom, but nobody reported hearing gunshots. He did say a weapon was found on campus, but didn't confirm it was a gun.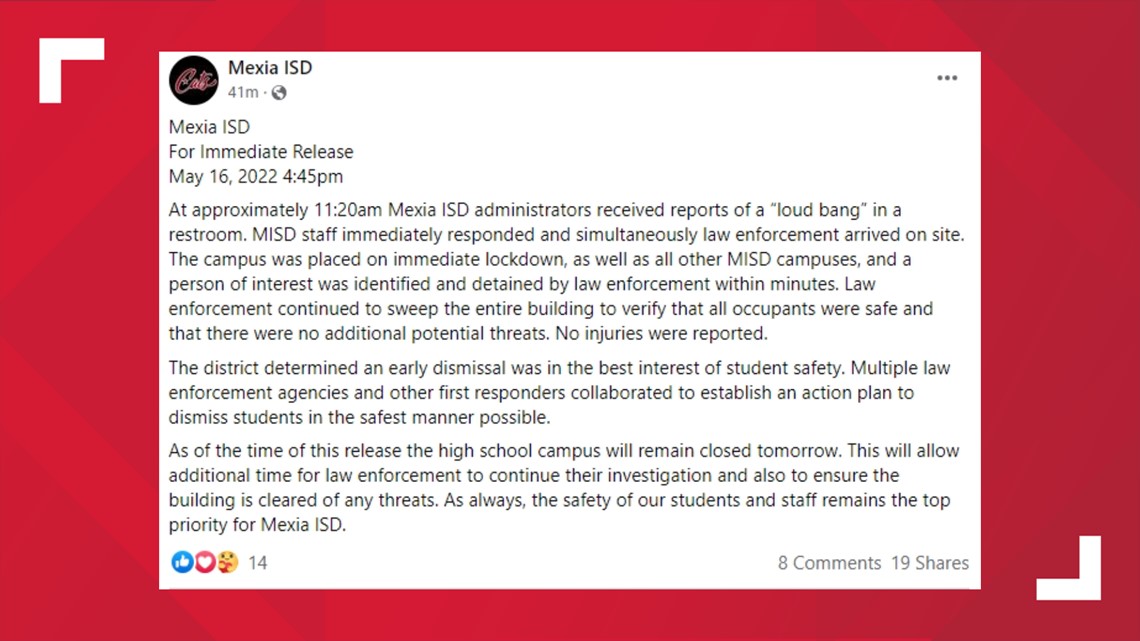 However, Mexia ISD said later the incident was a "loud bang." Authorities did find bullet holes in a boys bathroom, but Garretty stressed nobody reported hearing gunshots at the school. Garretty added that a weapon was recovered, but he didn't describe the weapon.
Stay with 6 News as this story develops.