TEMPLE, Texas — The snow that fell Sunday in Central Texas approached or passed record levels.
The National Weather Service in Fort Worth said the official total of 4.4" at the Waco airport was the most that has ever fallen on Jan. 10. The official total in Temple was 4".
It was the biggest snowfall measured at the Waco airport since January 1982 and was the tenth highest 24-hour snowfall on record.
Many people across Central Texas reported much higher numbers. 6 News received pictures from some people with as much as 7".
The highest official total in the 6 News viewing area was in Mosheim in Bosque County with 9".
The snow essentially closed or delayed every school in Central Texas. You can find that list here.
Tuesday morning delays
Groesbeck ISD is on a 2-hour delay Tuesday.
Mexia ISD is on a 2-hour delay Tuesday.
Leon ISD will have a two-hour delay Tuesday, starting at 10 am
Cameron ISD will have a two-hour delay Tuesday
Buckholtz ISD will have a two-hour delay Tuesday
Monday Morning forecast | Cold Weather Lingers:
Sunday's winter storm is moving east through the Deep South today, leaving a cold and snowy mess in its wake across Central Texas. Everyone received measurable snowfall Sunday. Officially at the airports Waco saw 4.4" while Temple recorded 4".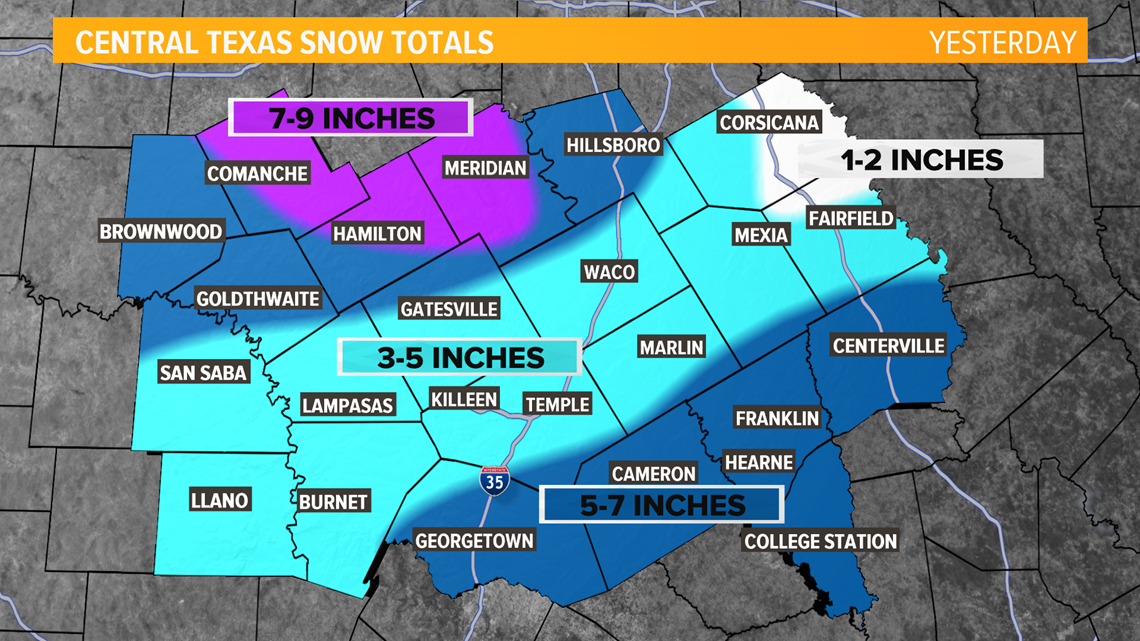 Our snow pack will be melting through the day with temperatures topping out in the upper-30s and lower-40s. Scattered clouds will decrease through the day setting us up for a cold night. A clear sky and light winds Monday night will allow temperatures to fall quickly with all locations dropping below freezing. Those same conditions may be conducive for patchy dense freezing fog. This could result in a few lingering slick spots through Tuesday morning.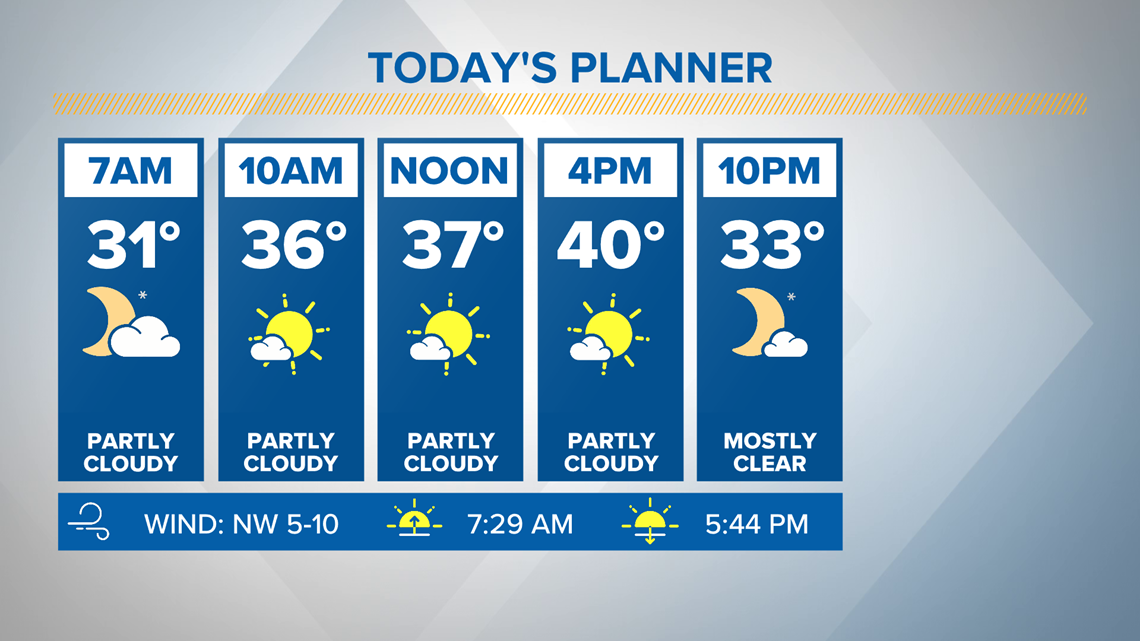 A warm up will take off Tuesday thanks to the return of abundant sunshine. We'll move from the upper-40s for highs Tuesday to the mid-60s for highs Thursday ahead of a cold front. The front will likely come through dry, but will bring a return of cooler weather that will linger through the weekend. Our next weather maker will swing through Sunday bringing a chance for showers back to Central Texas.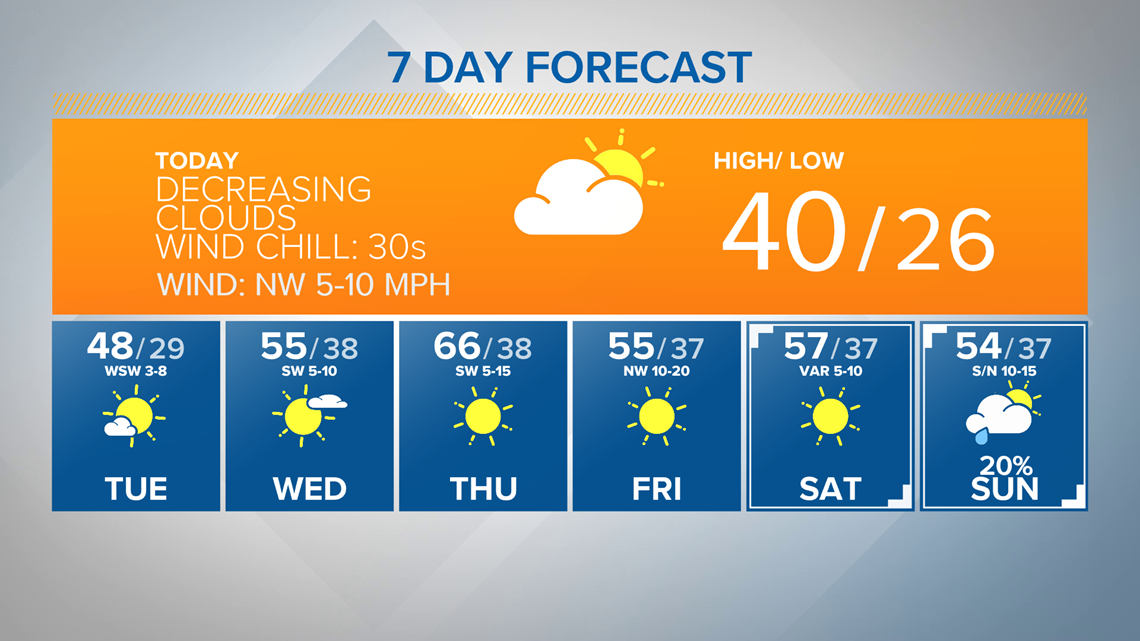 Update 7:15 a.m.
Bell County is receiving reports of "widespread" hazardous conditions of roads, on and east of I-35. Lieutenant Bob Reinhard said law enforcement is responding to several traffic accidents.
Ice has formed on the overpass on E. Hwy. 190 and FM 93, and the bridge on SH 36 near the Leon River, according to Lieutenant Reinhard.
Weather conditions have caused several shutdowns of roads and bridges, including I-35 and Loop 363, according to The Temple Police Department.
Officials are urging drivers to stay home, if possible, or drive with caution.
Lieutenant Reinhard said TxDOT is working to treat the roadways but it can take some time.
Update 6:30 a.m. Monday
A couple jackknifed 18-wheelers have caused a shutdown of lanes on northbound and southbound I-35 near Exit 307, according to a tweet from the Belton Police Department.
Officials have also received reports of black ice on roadways, so they urge drivers to take it slow and easy this morning.
Update 7:30 p.m.
Waco Public Health officials tell 6 New that COVID-19 testing in Waco has been cancelled due to the inclement weather.
More area school districts have announced they are closed or have delayed classes on Monday. Check those out above.
Update 4 p.m.
Due to fallen trees and downed limbs, all of Cameron Park, from the riverfront all the way up to Lovers Leap will be temporarily closed.
The community is asked to avoid Cameron Park until further notice.
Update 3:30 p.m.
City of Killeen offices will open two hours late Monday.
The Killeen Animal Shelter will open for adoptions at 11 a.m.
The Family Recreation Center will open at 9 a.m.
As of 3:30 p.m., the radar was showing dry air being pulled in from the southwest. Snow has tapered off around Lampasas County and far western areas of Bell and Coryell counties. Moderate to heavy snow continued around and east of I-35.
Even though the bulk of the snow will start shifting east of I-35, wrap around light snow will be possible across our western zones through the evening. Minus some isolated bands of lingering flurries. Precipitation is expected to be coming to an end for all of Central Texas by midnight.
Update 3:00 p.m.
The Oncor outage map showed roughly 5,000 customers were without power around the 6 News viewing area. The largest portion of outages was in McLennan County.
Update 2:30 p.m.
The Bell County Sheriff's Department put out an alert that road conditions were getting worse Sunday. Here are some key areas to avoid.
West Bell County
Chaparral Road, west of Feather Line (ice forming on the road surface)
IH-14 Eastbound at Nolanville Hill (ice forming on the road surface)
FM 2410 at Elf Trail (ice forming on the road surface and called impassable by DPS)
State Highway 36 long bridge over Leon River (ice forming on road surface)
State Highway 36 and State Highway 317 both have reports of ice forming in various areas.
Central Bell County
Flyover at IH-35 and IH-14 (ice forming on road surface)
East Bell County
State Highway 36 overpass above FM 93 (ice forming on the road surface)
State Highway 320 in far East Bell County (ice forming on the road surface)
North Bell County
Overpass above IH-35 in Troy (Ice forming on road surface)
Update 1:45 p.m.
We continue to track an active radar with moderate to heavy snow across all of Central Texas as of 1:30 Sunday afternoon. Heavier bursts of snow have led to more snow and slush covered roadways and bridges across the region.
Snowfall will continue to stream from southwest to northeast through the afternoon, thus creating slick and hazardous travel conditions almost area wide. As this wet, fluffy snow builds up it has the potential to break branches and bring down power lines.
Snowfall reports of 2 to 5 inches continue to stream in across the region. Higher amounts near 7 inches exist around Bosque and Hamilton counties. Closer to 1 inch of snow has fallen around I-45.
The winter storm is still expected to taper off from west to east Sunday evening.
Update 1:30 p.m.
The Clifton and Goldthwaite Independent School Districts said school was canceled for Monday.
Update 12:30 p.m.
Oncor was reporting more than 3,500 customers without power, mostly in the McLennan County area.
TxDOT's traffic map showed no accidents on I-35. Google maps showed traffic was slow but did not appear to be stopped.
The city of Copperas Cove said they had temporarily closed Veterans Ave from . 25th St. to Babb St. and Ash St. from Robertson Ave to Yucca Dr.
The city said it was closing monitoring the following streets:
Colorado Dr.
Freedom Ln.
Pecan Cove Dr.
Ogletree Pass
Update 12 p.m.
Radar is showing light to moderate snowfall across most of Central Texas with heavier snow bands mixed in. Snow totals of 1-4 inches were common for areas generally along and west of I-35.
Slushy roads are being reported around I-35, especially on bridges and overpasses. The further west you go towards Highway 281 (Hamilton to Lampasas) you start to encounter deteriorating road conditions, with more snow and ice covering the roadways.
Accumulating snowfall is expected for the entire area through the afternoon, before tapering off west to east this evening.
A wintry mix of sleet and snow is still showing up on radar for areas near I-45. A transition to all snow is expected by 1pm there.
As snow continues to come down slick and slushy roads will become more possible for areas east of I-35 towards I-45. The threat for black ice exist Monday morning as temperatures will be near freezing.
The Coryell County Sheriff's Office said TXDot had begun treating their roads and four accidents were reported.
FM 182 to FM 217 going towards Norris was not passable, the sheriff's office said.
TXDot was not reporting any accidents on I-35 but they advised everyone to avoid driving.
Update 11:30 a.m.
Killeen police closed the W.S. Young bridge due to the snow.
"We ask everyone to please stay home if possible and stay off the roadways. If you must get out and drive, please use extra caution," a statement said.
Oncor was reporting roughly 1,000 customers were without power primarily in McLennan County.
People west of I-35 near Brownwood and Stephenville were also experiencing outages.
Update 10:15 a.m.
Heavy bursts of snow created an ice, snow and slush mix on bridges and overpasses from Hillsboro down I-35 through Waco and down to Belton.
Snowfall reports of 1-3 inches were reported for our far western zones near Goldthwaite, Hamilton, and Lampasas.
Snow and ice were sticking on roadways near and west of a Meridian to Gatesville to Copperas Cove line.
Light accumulations of sleet and snow on grassy surfaces as far east as I-45.
Update 9:30 a.m.
The Texas Department of Transportation issued a travel warning for everyone driving through Waco.
Heavy snow was falling through the construction project area from 12th Street to N Loop 340. Visibility was low and freezing was possible.
Oncor was reporting slightly more than 100 customers without power as of 9:45 a.m.
A winter storm warning continued for all of Central Texas Sunday as a powerful and much anticipated storm sweeps across the region.
A wintry mix began mainly west of I-35 Sunday morning, with places like Mills, Lampasas, and Coryell counties changing to all snow.
A transition to a sleet/snow mix started to take over the I-35 corridor as of 8 a.m. Areas east of I-35 were experiencing mostly a cold rain, with occasional mixing. As our storm system moves west to east a transition to all snow is forecasted for all of Central Texas.
Snow totals of 3 to 6 inches may be common across the region, with locally higher amounts of 8 inches or higher possible.
Temperatures are expected to fall from the upper-30s in the morning to around 32-34° by the afternoon. This will cause accumulations to be highest on grassy surfaces. Bridges and overpasses will be susceptible to slippery conditions.
With temperatures staying near or above freezing through the day, roadways may stay more wet to slushy at times. Heavier snow bursts will lead to more slushy accumulations on roadways, so travel with caution even if roadways appear just wet.
The Great Snow of 2021 | Central Texas' snow day in pictures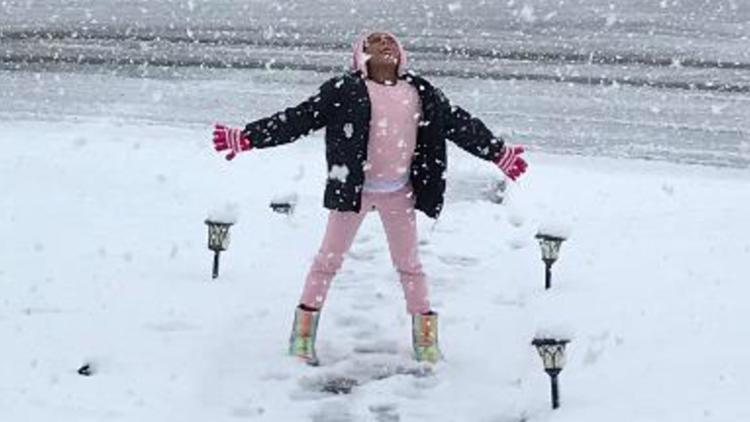 Sunday: Cloudy with early cold rain changing over to all snow (90%), with early highs near 37°. Easterly winds becoming northerly 10 to 20 mph. 4 to 6 inches of snow expected, higher amounts possible.
Sunday Night: Mainly cloudy with snow showers (60%) persisting, with lows near 30°. Northerly winds 10 to 20 mph.
Monday: Partly cloudy with a few flurries early (20%), with highs near 42°. Northerly winds 5 to 10 mph.
Tuesday: Mostly sunny, with highs near 49°. Light westerly winds.
Wednesday: Sunny and warmer, with highs near 58°. Westerly winds 10 to 15 mph.
Thursday: Sunny, with highs near 66°. SW winds becoming northerly 10 to 15 mph.
Friday: Mostly sunny, with highs near 58°. Northerly winds 10 to 15 mph.
Saturday: Mainly sunny, with highs near 60°. Southerly winds 10 to 15 mph.